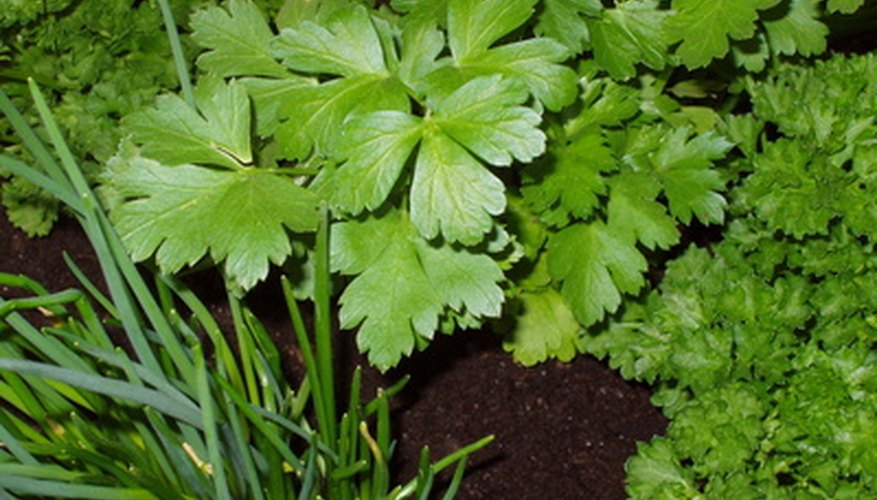 Raised gardens work well for herbs and many other types of plants. A raised bed can be just a couple of inches high or 3 or 4 feet tall, which makes it more accessible to people with back problems and those in wheelchairs. If you have heavy clay or rocky soil, want to transform a lawn area or simply want to create a rich growing environment for herbs, raised beds are easy to build and maintain.
Measure a sunny area where you want to build your raised herb garden. Then sprinkle white flour around the outside edges of the area to mark the space. A good size for a raised bed is 4 feet by 10 or 12 feet.
Mow or weed whack the area, especially if you are building your bed on top of old lawn. If there are just a few weeds or other plants you do not want, pull them by hand. Remove any large rocks.
Lay flattened cardboard boxes or thick sheets of newspaper over the entire raised bed area. This will smother any lawn or other plants that grow underneath but will allow your herb roots to penetrate when they get large.
Stack layers of organic compost, peat moss, grass clippings, fallen leaves, chopped-up plant parts, wood ash, wood chips, sawdust and any other organic materials you have handy on top of your cardboard or newspaper. The taller you make your bed, the richer the environment for your herb plants. Rake the surface level, and then water the area well by running a sprinkler for at least 20 minutes.
Plant herb bedding plants by digging holes large enough for each plant's root system with your trowel. Because a raised bed is a rich growing environment, you can plant your herbs closer together than you would in ground-level garden beds.