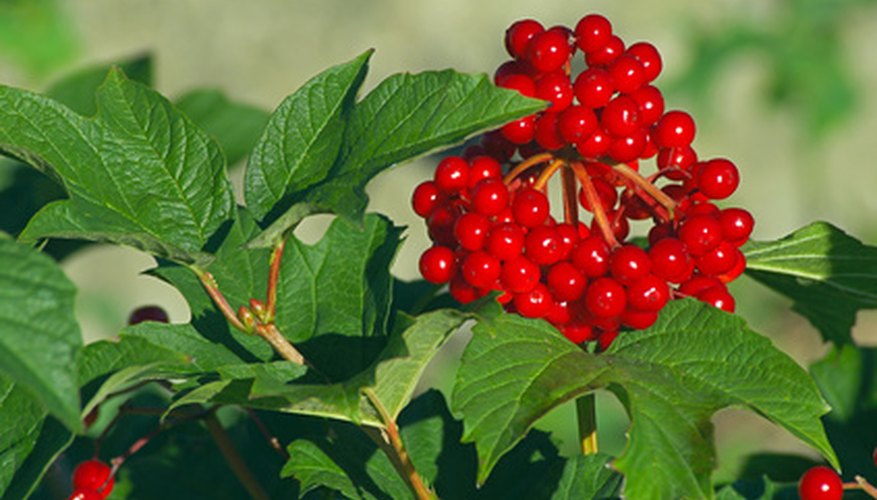 Gardening is as strong an English tradition as the changing of the guards at Buckingham Palace. England's great ancestral estates have some of the world's most magnificent formal gardens. On a much smaller--but very charming--scale is the English cottage garden. Both types of garden designs incorporate some of England's native plants, including stately trees and colorful shrubs.
Hedge Maple
Hedge maple (Acer campestre) is a small (25- to 35-foot) tree or large hedge native to England, Europe and Asia. Its lobed, 4-inch leaves, dark green in spring and summer, change to various shades of yellow in autumn. Between April and May, small greenish-yellow flowers bloom and give way to winged seedpods (samaras).
Hardy to minus 20 degrees F, hedge maple has few major insect or disease problems. Use the plant, recommends the Missouri Botanical Garden, as a lawn shrub, tree or hedge. Plant it in full sun--for best performance--to partial shade and averagely moist, well-drained soil. Drought- and pollution-tolerant, it handles a wide range of soils, including heavy clay.
English Holly
English Holly (Ilex aquifolium), hardy to 0 degrees F, is a pyramid-shaped tree from 30 to 50 feet high. Its densely branching form makes it suitable for training as a shrub. It has elliptical, 1- to 3-inch, toothed, glossy green leaves and small, fragrant, white May blooms. Brilliant red, berry-sized fruits ripen in autumn and remain on the plants into the winter, bringing hungry birds to the garden.
Plants are susceptible to several pests and diseases, according to the Missouri Botanical Garden. This includes spider mites, scale, leaf miners, tar spot and powdery mildew. Use English holly as a specimen, foundation planting or hedge. Give it full sun to partial shade. Afternoon shade is best where summers are hot. It likes averagely moist, well-drained soil. Plant at least one male and one female tree, as fruit occurs only on pollinated females.
Guelder Rose
Guelder rose (Viburnum opulus), or European cranberrybush, is a deciduous shrub hardy to minus 40 degrees F. Standing 8 to 15 feet high and up to 15 feet wide, it has deep green, lobed foliage similar to maple leaves. Lacy, flat-topped white flowers appear in April and May. Bitter, bright red berries ripen in fall, when the leaves may bring shades of purple to the garden.
Guelder rose is mildly vulnerable to aphids, crown borer, leaf spot and powdery mildew. Use it, suggests the Missouri Botanical Garden, in foundation plantings and shrub borders or as a hedge. It grows easily in full sun to partial shade. Happiest in consistently moist loam, the plant accepts a range of soils. Prune to shape right after flowering.