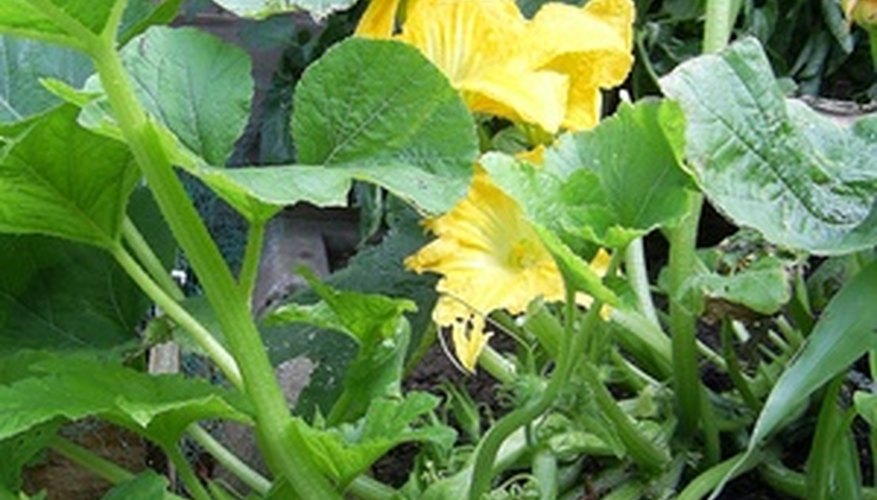 Gourd plants such as squash produce their vegetables on runners across the ground. In small space gardens these runners can take up a lot of space. Many gardeners rely on trellises to garden vertically in small space gardens. Even some forms of squash can grow vertically on trellises in gardens with small space. Squash that is trellised will produce a straighter vegetable.
Mark the trellis position in your garden by drawing a line in the dirt with a stick. Orient your trellis over the ground so that the plants face south so that the squash will receive adequate sunlight. Squash need at least six hours of sunlight to thrive.
Place a fencing t-post at each end of the trellis mark and drive the t-post 1/3 of the way into the ground with a mallet or a fence post driver.
Lean a welded wire cattle panel against the side of the t-posts. Secure the panel to the t-post with fencing tie wire.
Plant winter squash that bear small fruit, such as acorn squash, at the base of the cattle panels. Squash plants that bear large fruit can grow too heavy for trellises and break the trellis or snap the plant vine. Space each squash seed between 3 and 5 feet apart. If you plant more than one trellis, space each trellis 5 feet apart. Dig a drill hole a few inches away from each trellis. Each drill hole should be twice as deep as the squash seed's measurement at its widest diameter. Place three seeds in each drill hole and cover with soil. Water with 1 cup of water per drill hole.
Thin squash seedlings down to the single hardiest seedling per planting once the seedlings have sprouted. Tie the squash vines to the trellis with polythene plant ties as they grow.