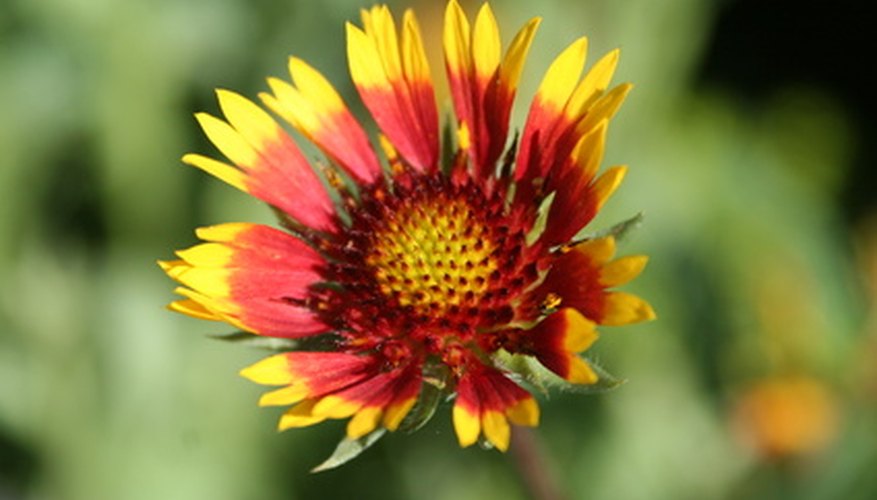 Indian blanket flower, also known as fire wheel, has daisylike blooms of deep red petals tipped with yellow that display from May to September or October. Indian blanket flower is a drought-tolerant annual that can reach 2 feet tall. The long flower stems make it suitable for floral arrangements where the blooms can last more than six days. The botanical name for Indian blanket flower is Gaillardia pulchella. Propagate Indian blanket flower with seeds that develop from faded blooms.
Water the planted Indian blanket flowers every seven to 10 days if there is no rain. Though drought-tolerant, regular watering will make fuller plants with larger blooms.
Avoid cutting bloom for optimal seed production. Deadheading can encourage more blooms, but the removal of the spent bloom reduces the number of seeds that can be harvested from a single plant. If you choose to deadhead to create more blooms during the summer months, stop deadheading around August to allow the existing blooms to mature to seed.
Watch for the seed heads to form from spent blooms. The Indian blanket flower seed head is a fuzzy ball less than 1/2 inch in diameter. In late fall, the foliage will die back and watering should cease.
Allow the Indian blanket flower seed heads to dry. The stem can be cut to dry the seed head indoors, standing upright in a waterless vase, or the seed heads can be plucked by hand from the stem and dried indoors on newspaper. Some seeds will separate on their own from the seed head indicating that the seed head is dry, which takes about five days.
Harvest the Indian blanket flower seed over a sheet of newspaper. Pull the seeds from the head with your fingertips or use tweezers. For large quantities of seed heads, a blender with the blades wrapped with duct tape and operated on the pulse speed can be used to separate the seeds from the head. Fill the blender no more than one-third full.
Spread the seeds on the newspaper and allow them to continue to dry for about three days.
Roll the newspaper to create a funnel and slide the dried Indian blanket flower seeds into a plastic food storage bag. Place the sealed bag into the freezer.
Remove the seed bag from the freezer in the spring for planting after danger of frost has passed. Scatter the seeds and cover with about 1/8 inch of soil. Keep the soil moist. Indian blanket flower seeds can take two to six weeks to germinate.