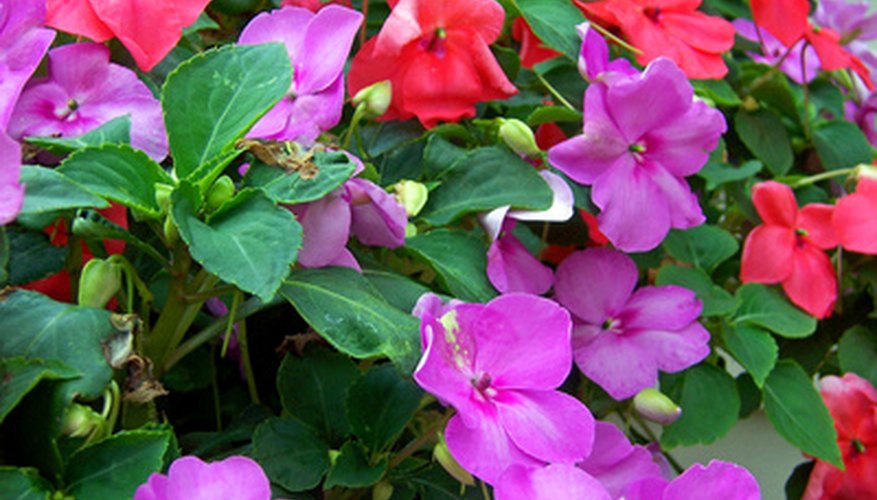 While you enjoy the cool respite under the tree or awning in summer, consider planting some shade-loving summer annuals in this same area. Often dark tones of green dominate the shady garden since few plants tend to bloom well in low light conditions. Using some frost-tender tropical perennials as summer annuals brings color to shady garden beds and containers. Make sure to water the soil enough to keep it moist as nearby tree roots also compete for the soil moisture.
Impatiens
Perhaps the most widely known summer annual to plant in shady spots, impatiens (Impatiens walleriana) continually flower until a killing autumn or winter frost. Fleshy, succulent stems easily break and wilt when soil moisture is lacking. In sandy soils or in regions with long, hot summers impatiens may prove high maintenance because of their need for abundant moisture to prevent wilting to dropping of leaves and flowers. Both single and double-flower forms of impatiens exist today, and flower colors range from white and pink to orange, coral-red, fuchsia, violet and ambiguous tints in-between.
Wishbone Flower
Also called summer pansies or bluewings, wishbone flowers (Torenia fournieri) bear small trumpet-shaped blossoms in the warm, moist shady areas in the summer garden. Up close the flowers have a face somewhat like pansies (Viola spp.), but are structured differently. Wishbone flowers' blossoms are typically lilac-blue, violet or pink in color with white and dark purple splotches and yellow throats. These annuals can tolerate a couple hours of sunlight in the morning or early evening without causing plants to wilt, unlike impatiens. Water and fertilize freely across summer and pinch stems to create bushier plants.
Begonias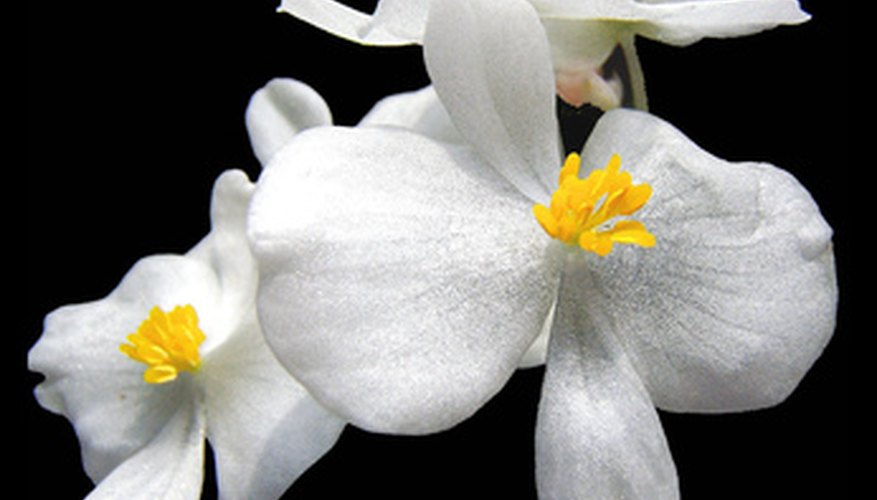 In terms of seasonal summer flowers, two types of begonias work nicely in shady garden situations: wax/fibrous begonias and tuberous begonias. In hot summer areas, focus on wax begonias since they can tolerate heat and sunshine. Bronze-leaf varieties tend to lose their leaf color in dense shade but their flowers still continually bloom. Tuberous begonias look their best in cool to warm summer areas so that they bloom non-stop. Pinch off old tuberous begonia blossoms to encourage faster development of replacement flowers; wax begonias drop their old flowers and continue blooming without care.
Fuchsia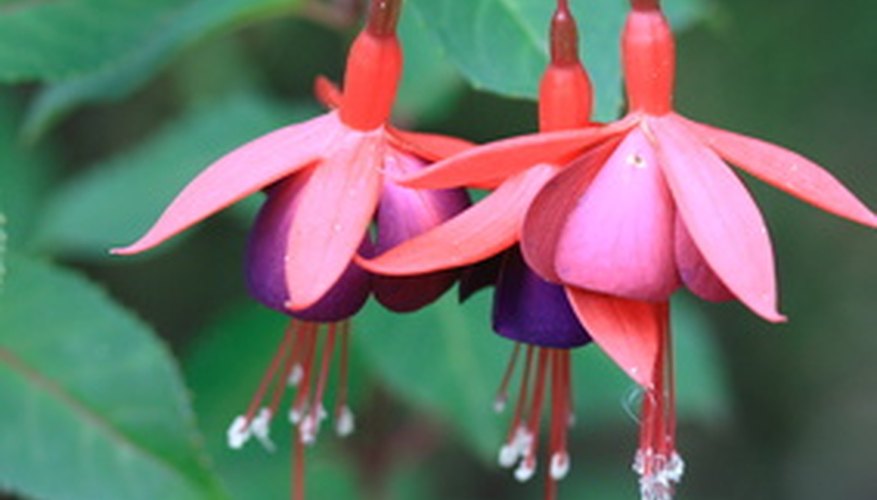 Best in a hanging basket or hillside where the sprawling stems and pendent flowers can be seen, fuchsia plants make nice accents for shady gardens. Fuchsia plants prosper in bright indirect light and humid, warm but not hot summer conditions. Once summer temperatures in the shade exceed 80 degrees Fahrenheit, fuchsia plants tend to wither and stop blooming.