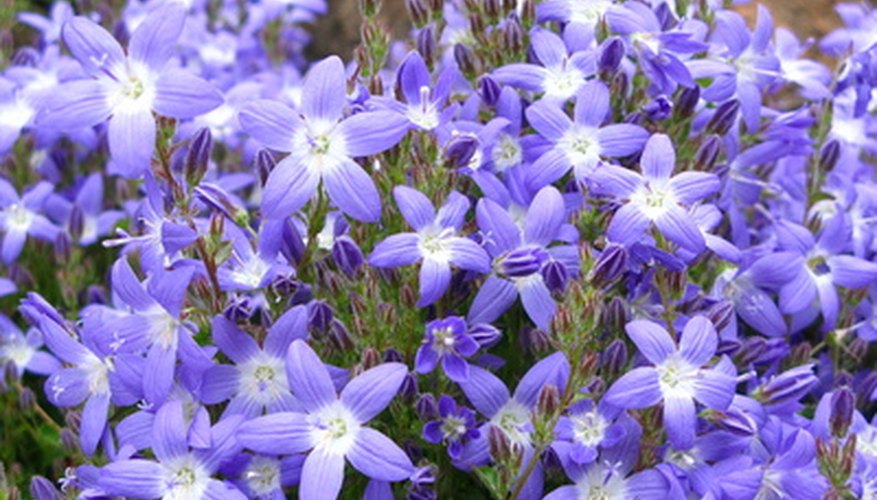 Vinca minor, colloquially known as creeping myrtle or periwinkle, is a creeping evergreen perennial ground cover. It is often used to cover shaded areas of gardens or lawns but is also commonly cultivated as a container plant. Vinca minor is quite easy to grow. So easy, in fact, that it can become an invasive spreader if not intermittently pruned. Pruning also improves the health of the plant and reduces its susceptibility to disease. The best time to prune vinca minor is in early spring after all threat of frost has passed.
Clean vinca minor once annually. Use a sharp, clean pair of pruning shears to remove any dead foliage or broken stems back to their point of origin.
Prune back vinca minor that has grown past its boundary. Use the edge of a sharp shovel to sever the overgrown section of the plant down to its roots. Place it at the desired border of the bed and then press down on the shovel head with your foot until you penetrate 5 to 6 inches into the soil. Then use a trowel to dig up the roots of the severed section.
Mow vinca minor back to 4 to 6 inches above the ground with a rotary mower once every 3 years to promote more vigorous growth. If your lawn mower's blade height does not go as high as 4 inches, use a pair of lopping shears to cut your vinca minor bed down to 4 inches in height.
Things You Will Need
Lawn mower

Pruning shears

Trowel

Shovel