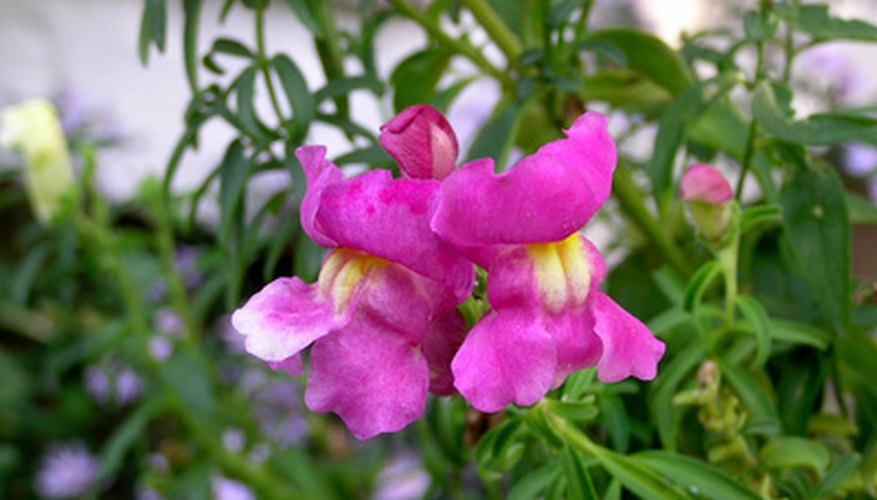 Snapdragons are an old-fashioned favorite for flowerbeds and provide bright color throughout the summer. Once available only in the tall variety, snapdragons are typically categorized into three varieties: dwarf snapdragons that reach heights of 6 to 8 inches, intermediate snapdragons that reach heights of 12 to 20 inches and tall varieties that grow to 30 to 36 inches in height. Watering snapdragons does require special attention, as they are prone to rust, a disease that causes the plant to lose water, which stunts growth and may kill the plant. Improper watering may spread the disease.
Water snapdragons in early morning or late afternoon when temperatures are cool. Avoid watering during the hottest part of the day to reduce stress to plants.
Apply water to the soil, instead of spraying from overhead, if possible. According to University of California-Davis, watering from above releases rust spores on infected plants and spreads the disease to nearby plants.
Water until the soil is saturated to the root level. Allow soil to dry between watering. Typically, once a week watering is sufficient, but in dry periods more frequent watering may be required. Snapdragons grown in container gardens or raised beds may require daily watering.
Watch for signs of wilting and adjust your watering schedule to meet the specific conditions in your area. During periods of rapid growth, or under extreme heat, plants require more water than usual.