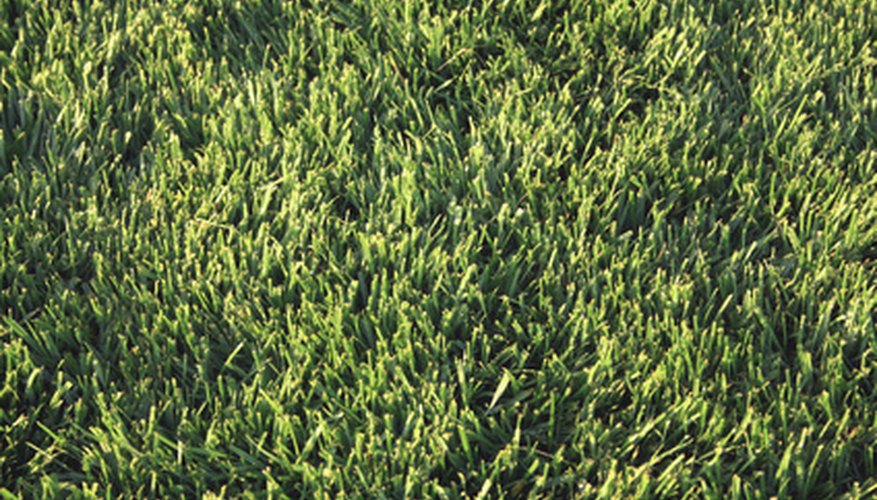 Thatch, the layer of built-up debris between the grass and the soil, will smother a healthy lawn. Any organic matter that has fallen onto the grass will form this thick layer, preventing nutrients from reaching the root system of the lawn. Power raking will remove this built-up thatch and allow nutrients, water and oxygen to reach the soil once again. Washington State University recommends that thatch be removed when it has reached 1/2 inch in depth to prevent unwanted pests and a decayed root system.
Remove toys, rocks and debris from the lawn with a pointed shovel. Mow the lawn before de-thatching. Lower the blade height of the mower to remove more grass than a usual cutting will.
Adjust the depth of the blades on the power rake, moving the handle near the engine base. Blades should be set to 1/4 inch to prevent damage to the soil. Set the choke on the engine to open and pull the start cord to engage the engine. Move the choke to closed and allow the motor to run for one minute.
Engage the blades, listing the lever on the handle. Increase the throttle speed and push the power rake in paths across the lawn. Repeat overlapping the prior path until the entire area has been de-thatched. Repeat the process, moving in a perpendicular path, creating a crisscross pattern.
Rake the lawn with a manual rake, removing the lifted thatch from the grass. Place the thatch on a tarp for disposal. To prevent the spread of weeds, do not place the thatch in flower beds as compost or mulch.
Apply grass seed to bare areas according to the package directions. Fertilize the lawn with a high nitrogen fertilizer using a walk-behind spreader. Water the area well, allowing the soil to become moist. Repeat watering within three days if no precipitation has occurred. Repeat this process yearly to prevent a build-up of thatch in the future.