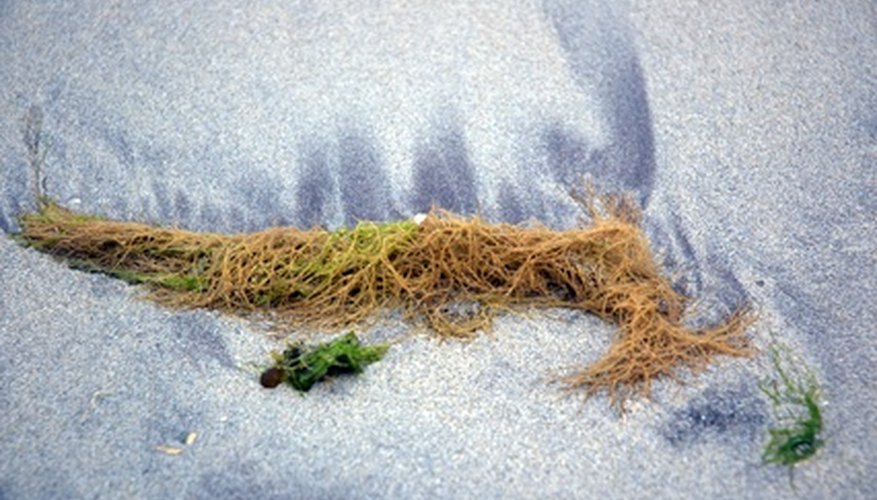 seagrass on ventry beach image by Joe Houghton from Fotolia.com
Although not a true grass, seagrass is related to the lily family of flowering plants. It's a marine flowering "grass" that comprises of approximately 50 or so tropical and temperate species. It provides shelter for marine life and filtration for the water. Human uses of seagrass span over a variety of applications from health supplements to craft fiber and soil additives for gardens. Using seagrass at home allows you the opportunity to make use of a truly natural material with ease.
Soil Binder
Mix approximately 8 lbs. of seagrass in a wheelbarrow with 10 lbs. of potting soil.
Break apart sandy or silty soil with a shovel. Chop up large pieces to break them apart.
Pour the mixture of seagrass and potting soil over the turned earth.
Mix the garden soil with the seagrass and potting soil mixture to bind the soil and prepare it for stable flower growth.
Sow a variety of flower seeds that require moisture-retaining soil. These flowers include orchids and wild roses.
Seagrass Pillow
Spread a 12 inch by 12 inch square of fabric in front of you.
Pile 2 lbs. of seagrass in the center of the fabric square.
Squeeze a line of fabric glue around all edges of the fabric square.
Layer another fabric square directly over the square holding the mound of seagrass.
Allow the pillow to dry for three hours before using as a decorative touch to your home.
Things You Will Need
Seagrass (10 lbs.)

Potting soil (10 lbs.)

Wheelbarrow

Shovel

Flower seeds

Fabric squares (12 by 12 inches)

Fabric glue