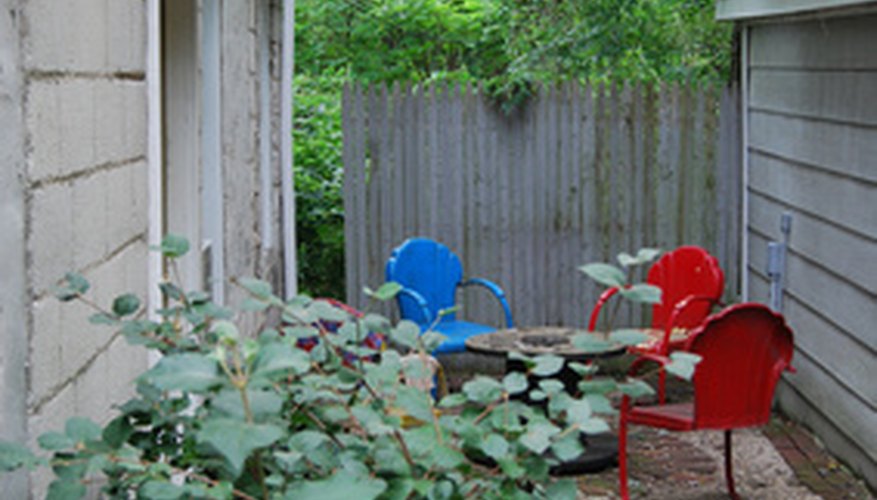 Courtyard gardens may be the only garden those who live in condos and townhouses have. It's surrounded on at least three sides, and often four, by the house or walls of other residences. Sometimes, the courtyard is in the interior of the home, open to the sky and sun. Space is at a premium in a courtyard garden. Use every square inch possible for greenery and flowers through borders, edgings and containers.
Vertical Plants
Ivy growing up walls, clematis growing up a trellis or grapevines over a pergola are all good choices for courtyard gardens. Match your choice of vine with the growing conditions. Trumpet vines have orange flowers shaped like a trumpet. It grows to 30 feet high and is not very hardy. Cup-and-saucer plant grows to 16 feet and reaches that height quickly. Climbing roses are a good choice for any sunny space in the garden. It will need a sturdy support for the canes to be tied to.
Hanging Plants
Hanging plants are the inverse of vertical plants. Hanging baskets don't take up any precious soil and provide pops of color where they wouldn't be expected. Almost any flower that grows less than 24 inches high can grow in hanging basket. Combine a bushy plant, like petunias, with a trailing plant like bacopa and an upright plant like mid-sized snapdragons. Geraniums are a favorite for sunny spots and impatiens for a shady spot.
Edging Plants
The perimeters of pathways, hardscape and patio are often narrow. Don't neglect them. Put them to use with edging plants that will flow over the borders and soften the edges. Self-seeding annuals like lobelia and alyssum work well. Candytuft is a perennial that grows a little taller--up to 10 inches. Creeping thyme takes some foot traffic and releases a pleasant scent. Irish moss is a good choice for shady areas. Dichondra grows well in dabbled shade.
Specimen Plants
Every garden, whether a 2-acre extravaganza or a 200-square-foot courtyard, needs a focal point. Specimen plants provide that exclamation point. Take into consideration the mature size of trees. You might think you can keep a tree that grows to 50 feet pruned down to 15 feet, but it's a challenge. Good choices are Japanese maples for fall color, crab apples for spring color and crape myrtle for summer flowers. In colder climates, where most of the garden is bare in winter, choose at least a few evergreens to give structure to the space.