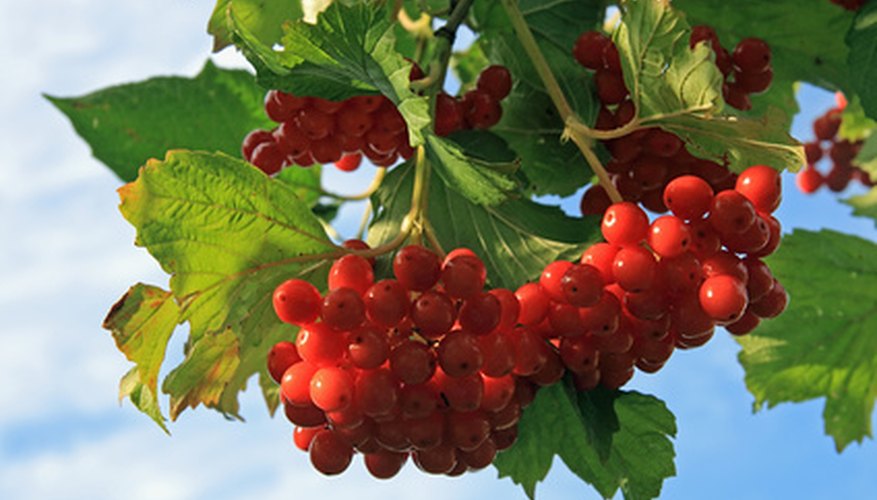 Viburnum opulus Roseum is a deciduous flowering shrub that produces large, round, snow white flower heads each May. Commonly known as snowball or European snowball viburnum, Roseum produces dramatic blooms that are reminiscent of mophead hydrangeas.The flowers are complemented by deeply veined green leaves that resemble a cross between maple and grape foliage. Though rarely in need of extensive pruning, if done, the shrub should be pruned in the summer immediately after flowering or after the fruit has been eaten by birds in the fall, according to Purdue University.
Remove any dead, diseased, cracked or broken branches or any that may be laying on the soil. Cut back to a point of healthy live tissue, back to the parent branch or down to the main trunk of the shrub.
Thin the interior of the shrub, if needed, to improve light penetration and air flow between the branches. This type of pruning is not often needed on viburnum, but if the shrub has been neglected and become overgrown, it may be. Cut back the oldest stems down to the parent trunk or to the ground and discard them.
Shape your viburnum into a more upright tree form by pruning away the branches and leaves on the lower third to half of the shrub. Cut back sucker or water sprouts each year, as needed, to preserve this manicured look.
Reduce the spread and height of the shrub by trimming the terminal branch tips back to the desired length. Work in concentric circles around the shrub to ensure even placement of cuts following the natural line of the shrub to result in a rough symmetricality.
Things You Will Need
Pruning shears

Loppers

Fine-toothed pruning hand saw
Tip
Use secateurs and loppers to sever smaller diameter branches and a fine toothed pruning hand saw for branches that have grown to 1 inch or more in diameter. This will allow more readily for crisp, clean cuts without injuring the viburnum.
Warning
Remove no more than one-third of the overall bulk of the shrub in any one pruning session to reduce stress on the plant and prevent shock.