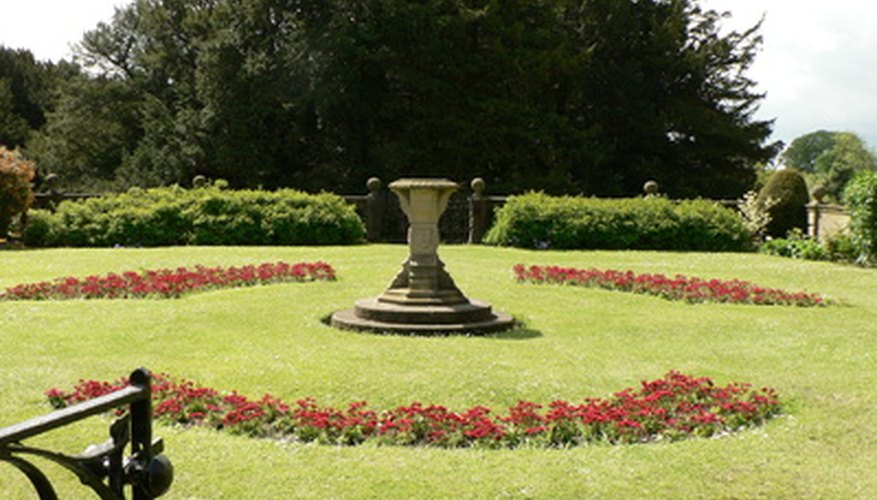 When you think of a formal garden, you most likely think of trimmed hedges, manicured flower beds and lush lawns. Every plant has its place and keeps it. There is an order and calmness about a formal garden. Size is not a prerequisite for formality. A tiny backyard may be as formal as the 2-acre front lawn of a mansion.
Flowers
Choose flowers with a restrained growth habit and that take to pruning after blooming. Dependable bloom times are important as well, so you can coordinate the colors of the garden. For example, The colors of the dogwood flowers are echoed by the dianthus in the bed below. The dianthus should bloom at the same time as the dogwood tree. Good perennial choices would be delphiniums, foxglove, lady's mantle, bacopa and candytuft.
Trees
Cypress with its tall, up to 50-foot, growth habit makes a stunning border. The trees naturally have a cylindrical shape and don't need much, if any, pruning. Espaliering fruit trees brings a note of uniformity to the trees as well as increasing fruit production in a smaller area. The trees are trained through supports and wires to grow in a fan shape or from a main trunk with lateral branches horizontal to the ground at regular intervals.
Hedges
Pruning and shaping are hallmarks of the formal garden. Bushes like privet, box, bay laurel and junipers have compact, small leaves and a dense shape. They are ideal for pruning into topiaries. Roses make beautiful hedges with the added bonus of bouquets for the house. Hydrangeas are reliable bloomers under the right conditions. Azaleas bloom in shaded areas in spring. Pyracantha has white flowers in the spring which turn into reddish-orange berries in the fall. Train it up a trellis or flat against a wall as well as using it for a hedge.
Bulbs
Tulips, with their upright leaves, long stems and uniformly shaped flowers decorate formal flower beds throughout spring. The challenge is hiding their yellowing foliage before the plants die back. If the leaves are cut while still green, there will be no energy for the plant to flower the next spring. Over planting the tulips with day lilies is one solution. Other bulbs to plant are gladiolus with their straight, long stems of flowers reaching up to 4 feet high, alliums with blue and white spheres of flowers on stems 24 inches long and Asiatic and oriental lilies.