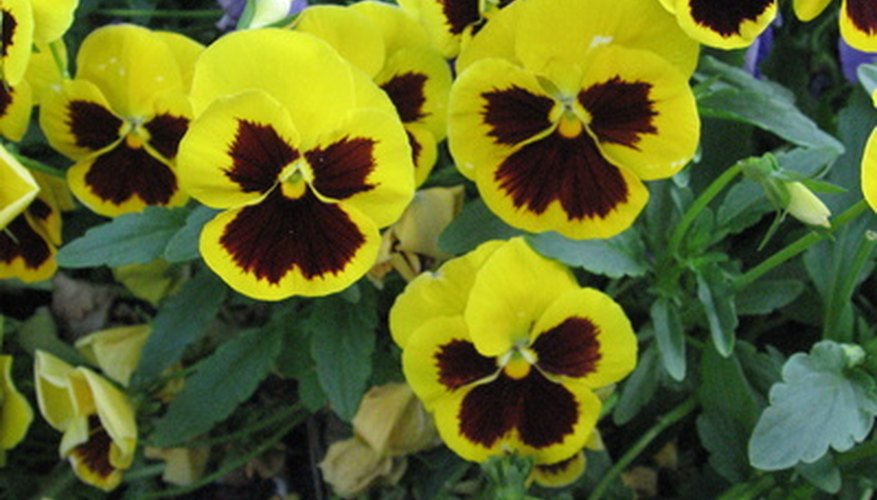 Annuals, perennials and biennials can all be used for bedding plants in a garden. Short stocky plants that have dark green foliage are the easiest type of bedding plants to use because they establish themselves quicker than larger ones. Bedding plants bloom in a variety of colors that are used for landscape decoration or container planting, or used for cut flowers.
Geraniums
Geraniums (Pelargonium), are perennials that are typically used in borders and flower beds. They grow up to 3 feet tall. Plant geraniums in well-drained soil, but keep it moist during hot weather conditions. Once the weather cools, allow the soil to dry. Keeping the soil too moist will cause the geranium to develop root rot. Place the plant in a full sunny area to encourage blooming.
Pansies
Pansies (Violax wittrockiana), is a biennial bedding plant. It is often placed in flower bed borders, window boxes, flower bed borders and hanging baskets. A pansy has a slender stem which grows 6 to 9 inches high. Its blooming season begins in the spring when temperatures fall to 40 degrees F in the evening and 60 degrees during the day. A pansy must be planted in well-drained soil and full sun. Shady conditions will discourage the flower to bloom.
Marigolds
Marigolds (Tagetes) are a tender annual used for bedding, containers, edging and also cut flowers. It grows rapidly, reaching from 6 inches to 4 feet tall. A marigold will thrive in moist (but not wet) soil and a full sunny area. Marigolds will not bloom in a shady area. Deadhead spent flowers to encourage more blooming. The flowers of a marigold bloom in colors of orange, yellow, red, cream and maroon.
Impatiens
Impatiens (Impatiens wallerana) are an annual bedding flower that are also grown as houseplants, in containers and hanging baskets. They reach a growth of about 1 to 2 feet. Dwarf forms of impatiens grow only to about 10 inches tall. Plant impatiens in well-drained soil and place them in a sunny to partially shaded area. Impatiens bloom from early summer through fall. Their flowers bloom in solid colors of white, pink, purple, salmon, red and orange.