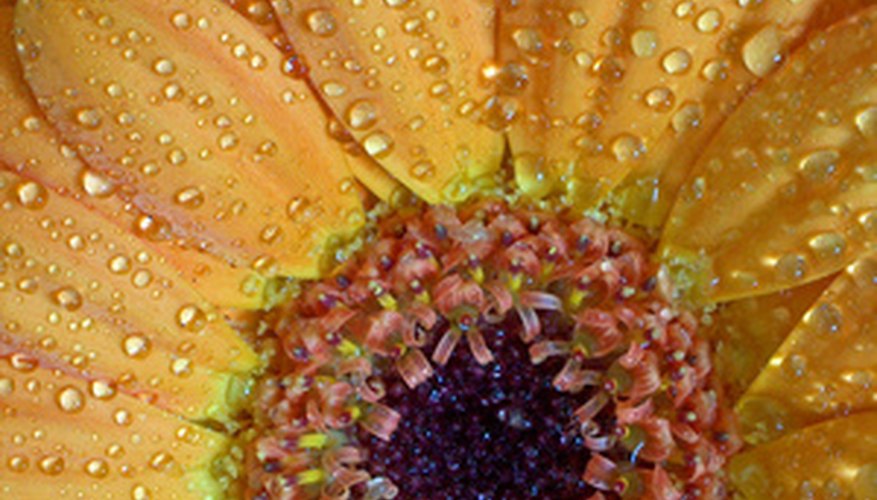 Gerbera daisies, Gerbera jamesonii, are an elegant member of the Asteraceae family and are available in a range of colors. Gerberas produce showy, round blooms on slender stems that can be as tall as 18 inches. The blooms, many of which have several rows of petals or ray florets, are vibrant and long-lasting, even when cut. Gerberas have green, lobed leaves that spread and form clumps. Gerberas are hardy in U.S. Department of Agriculture Plant Hardiness Zones 9 to 11 as perennials.
Jaguar Gerbera
This cultivar is a among the smaller selections and may be used in pots or in a garden. The jaguar gerbera, which blooms early, produces flowers that are 3 to 4 inches across and are available in several colors, including reds, oranges, pinks and yellows. The blooms have two layers of petals, which are oblong in shape. The stems on this cultivar are shorter than standard gerberas. The jaguar gerbera requires full sun and ample water to thrive.
Little Fortune Gerbera
The little fortune gerbera is a dwarf cultivar with vibrant blooms that may reach 3 inches across but are usually smaller. The blooms have two layers of petals, and because the plant is a dwarf variety, the stems may be 10 inches or less and flowers may lie against the green foliage. A border or small-pot plant, the little fortune gerbera is a prolific bloomer. The fortune gerbera is a larger cultivar with similar characteristics, though the blooms can reach 5 inches across. Both cultivars thrive in full sun with regular water.
UF Multi-flora
Two cultivars developed at the University for Florida, the UF multi-flora peach and UF multi-flora pink frost gerberas are designed for use home landscapes, have large flowers and bloom throughout the summer. Both produce blooms that reach 3-1/2 inches across on stems of up to 17 inches for the pink and 18 inches for the peach. These cultivars spread vigorously. The bloom on the peach cultivar is yellow in the middle and at the tips of the petals, while the bloom on the pink cultivar is has a yellow center and pink-purple petals. These cultivars can tolerate part shade, particularly in humid climates, but need regular water.