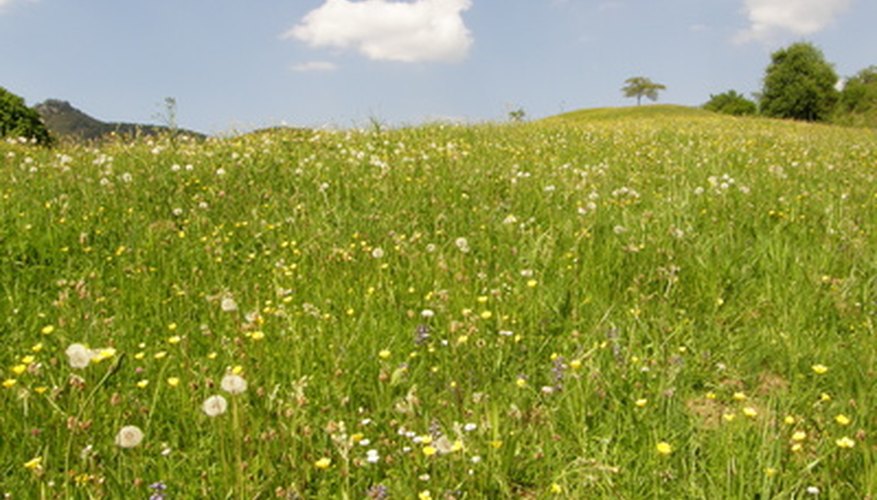 Most of the southern part of Minnesota lies in USDA Zone 4, with the northern half in Zone 3. While this means that many plants will not reliably survive winter there, a number of trees, shrubs, perennial plants, flowers and grasses will. Check items in mail-order catalogs carefully to determine that they are reliably hardy in the USDA zone in which you live. Live plants offered for sale in Minnesota nurseries and garden centers are usually reliably hardy in the area in which they are sold.
Woodland
Two-thirds of the state of Minnesota is woodlands. Landscape your yard to match the surrounding natural terrain using woodland plants, shrubs, evergreens and deciduous trees. If space in your yard permits, include a deciduous hardwood shade tree, such as a sugar maple or birch. Plant evergreens such as juniper and conifers such as pine and spruce. Fill garden beds with woodland plants--choose varieties grown for either their flowers or foliage, or both. Jack-in-the-pulpit, columbine, ferns and the state flower, the lady's slipper, are all examples of woodland shade-loving plants for a Minnesota woodland landscape design.
Prairie
The southwestern corner of Minnesota is native grasslands, or prairie. Landscape your yard using native prairie plants and grasses. Best in sunny locations without nearby shade trees, a prairie landscape can be low maintenance if planted with native grasses and wildflowers. Ornamental grasses, sedges and native American wildflowers such as purple coneflower, black-eyed susan, liatris and goldenrod are all popular wildflowers for landscaping.
Lakeshore
With over 10,000 lakes, there is no shortage of lakeshore property in Minnesota. If you live on or near a lakeshore, plant native wetland plants to take advantage of the high water table near the lake. Create a buffer zone at least 30 feet wide between your cultivated lawn and the lake itself in which to plant these native wetland plants. This buffer zone will help keep excess fertilizer from running off into the watershed. In lakeshore landscaping, choose hardscape surfaces that are water permeable and that will reduce run-off into the nearby lake. Instead of concrete paving, choose gravel or one of the new water permeable concrete pavers so excess rainfall is absorbed into the ground, rather than runoff into the lake, carrying with it excess fertilizer from the cultivated lawn and landscape.