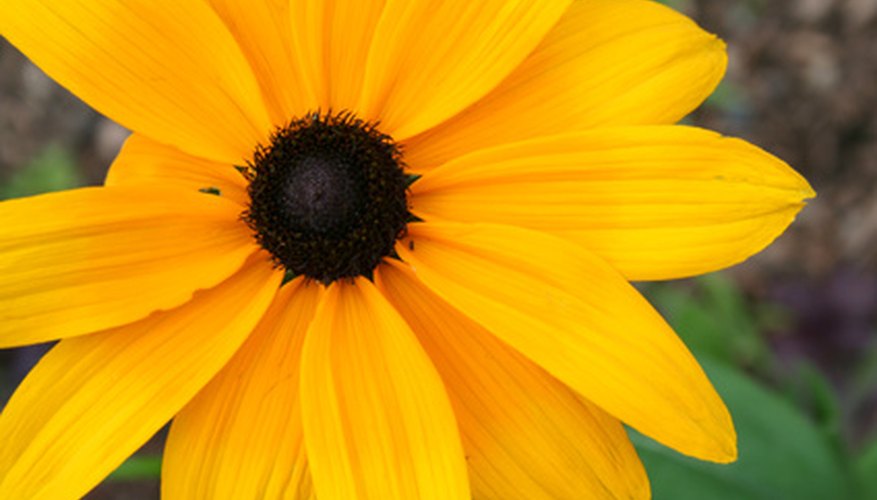 Meadow flowers are wildflowers, native or naturalized to the area in which the meadow is located. Natural meadows are found in areas where the natural succession of plants has been stopped. Meadows consist of a combination of flowers and native grass. Native meadow flowers will vary by region.
Annuals
Annual native meadow flowers include the annual phlox, which is native to Texas and found in the Southeast U.S. The phlox has white, purple and pink flowers and blooms during the spring. Black-eyed Susan varieties include annuals that bloom with yellow flowers throughout the summer until the fall. The flower is found in meadows throughout North America, including Canada. The clarika reseeds itself and is native to California. The flowers are pinkish orange and grow in dry soil. Prairie aster blooms with purple flowers and is native to the Midwest. The sunflower is a yellow annual that prefers full sun. Indian blanket has red flowers with yellow edges and is native to the central U.S.
Perennials
Purple coneflowers are native to the Midwest and Southeast U.S., and have purple flowers that bloom from early summer through to fall. Wild bergamont, or bee balm, is native throughout the U.S. and has purple, pink or white flowers. Bluets, or Quaker ladies, have small blue flowers and grow in clumps. Virginia bluebells bloom with purple and blue flowers in the early spring. Dwarf cinquefoil grows to a height of 2 to 6 inches and blooms with yellow flowers during the spring. Eastern red columbine is native to the Eastern U.S. and has red, trumpet-shaped flowers. Trout lily is one of the first flowers of spring, blooming with yellow and brown flowers.
Biennials
Biennials have two-year life cycles and reseed themselves. Siberian wallflower blooms early in the spring with yellow flowers and is naturalized in the U.S. Foxglove is naturalized in the Pacific Northwest and has purplish-pink flowers. Biennial gaura has small light pink flowers that bloom in the late summer and is native to the eastern and Midwest U.S. Hollyhock is naturalized in the U.S. and blooms in several different colors. Chicory has light blue flowers and is edible. Scarlet gilia has red trumpet-shaped flowers and grows to 1 to 3 feet high. Wallflower is a naturalized plant with orange flowers that bloom in the spring.