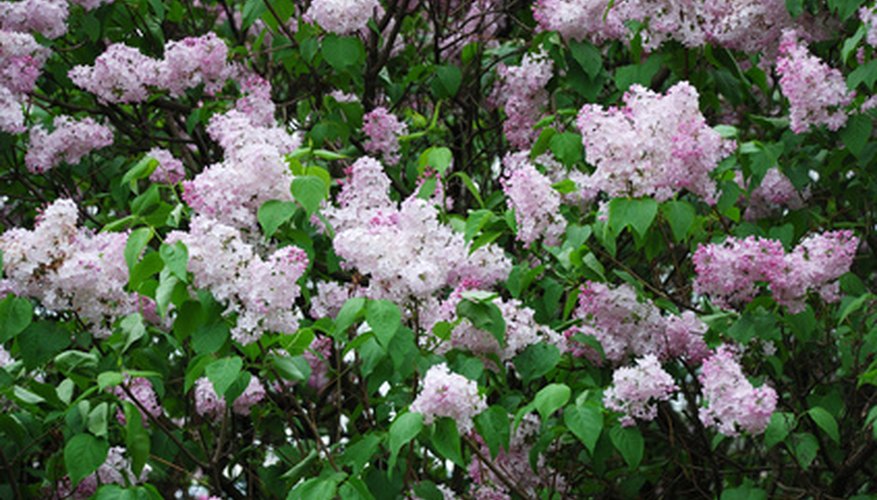 Flowering shrubs are the backbone of the home landscape. Their flowers bloom with very little help from the gardener and provide color at mid-height in the landscape--between the perennial border and the tree canopy. Save money and plant small specimens of fast-growing shrubs; they'll reach their full height in just a few years.
Lilac
Widely planted in northern North America, the common lilac (Syringa vulgaris) is a fast-growing, flowering deciduous shrub. It has dense growth habit and makes an excellent privacy hedge. The hauntingly fragrant lavender-colored flowers bloom in mid-spring and last only a few days. The flower cluster is actually many tiny flowers arranged in a cone-shape that hangs down from the topmost branches of the shrub. The leaves are dark green and heart-shaped. Once established, lilacs can live for centuries, according to the Harvard University Arnold Arboretum.
Forsythia
Fast-growing, hardy and reliably flowering, forsythia (Forsythia spp.) is widely planted in urban areas in shrub borders and massed in the landscape. Their bright yellow flowers bloom on old wood before the leaves unfurl. Forsythia grows to a height of 8 to 10 feet with a spreading, arching growth habit. Plant forsythia in full sun; they grow in partial shade but will produce fewer flowers. Adapted to a wide range of soil types, forsythia will not grow well in wet, poorly drained sites. Forsythia is grown primarily for its spring flowers.
Hardy Hibiscus
Native to North America and hardy through USDA Zone 4, hardy hibiscus (Hibiscus moscheutos) is also called "swamp mallow" or "wild cotton." It grows best in moist sites in either full sun or partial shade. Hardy hibiscus quickly grows to a height of 4 to 7 feet and produces large white, pink or red flowers that bloom from summer through fall.