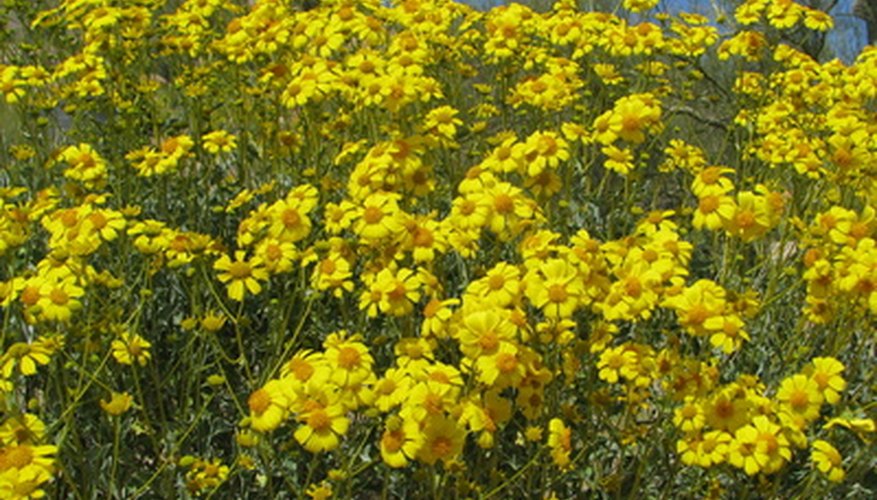 If you're a cowgirl at heart, you might plan a western-themed wedding with leather and lace, or perhaps wear an embroidered denim wedding dress. Instead of a veil, consider an embellished cowgirl hat. Carry that western theme through your wedding flowers, bouquets and table arrangements. Select prairie flowers like bachelor buttons, purple coneflowers, snapdragons, Queen Anne's lace and roses rather than more formal flowers like orchids, calla lilies, carnations and peonies.
Bandanas
Wrap the bride's and bridesmaids' bouquets in bandanas. Place the bandana on a flat surface. Put the bouquet in the center of the bandana and bring the ends up around the bouquet, tie with twine. Another alternative is to cut the bandana into 3-inch wide by 6-inch long strips. Twist a piece of floral wire around the middle of the 6-inch strip and pull the ends up. Insert the strips into the bouquet as if they were flowers. A third option is to cut the bandana into thirds. Sew the ends together to make a long strip and tie the strip around the bouquet with the ends in a bow.
Containers
Choose flower containers for the reception, cake table and buffet that are western themed. Galvanized buckets are a natural choice. They come in several sizes, from a quart to several gallons. Pick up old cowboy boots at the second-hand store. Soak in a mixture of bleach and water to sanitize. Stuff the boot with rolled-up newspapers to keep it shaped. Let dry and then spray paint with your wedding colors. Place a tall plastic glass inside the boot to hold the flowers. Cowboy hats are another option. Dollar stores and party favor stores often have hats for a few dollars or less. Line with plastic and stuff with floral foam to hold the flowers. Blue-speckled coffee pots filled with blue and white flowers look very western when placed in the center of coiled rope.
Lanterns
Use candle lanterns as centerpieces for the tables. Wreath the lanterns with single red or white roses placed in votive candle holders filled with water. If the lanterns open at the top, put a plastic glass in the lantern instead of a candle and fill with flowers. The lantern becomes the vase. Put a small votive candle in the lantern and light. After 15 minutes or so, feel the top of the lantern. If it's cool, have the florist make a mini bouquet to attach to the top of the lantern.