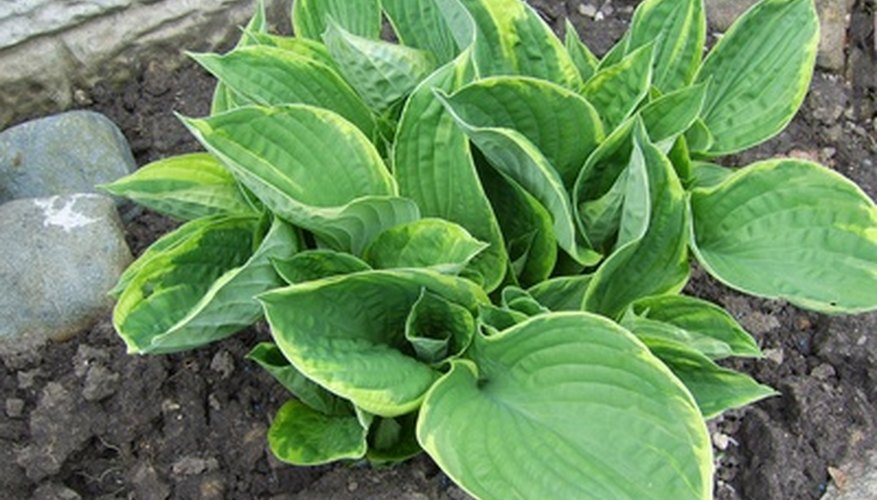 Narrow gardens often line walkways, buildings or fence lines. The location requires careful examination of the scale of the area in relation to plant height. As a general garden design rule, the Cornell University Extension Service recommends that the tallest plants in a narrow border garden not exceed 2/3 the width of the space. Filling the narrow garden may seem best, but hiding the mulch surface of the garden diminishes the garden's framing ability.
Hosta
Narrow garden beds benefit from the dense foliage of the hosta. This partial to full shade plant can be used alone or grouped with different cultivars to create a dramatic foliage garden. Hosta, also called plantain lily, features clumping growth habits with long stems that arch outward from the center of the plant. Gardeners consider hosta a ground cover, with most plants growing to 12 to 18 inches high. Hosta grows best in USDA hardiness zones 3 to 8.
Day Lily
The strap-like foliage of the family of day lily plants provides contrast in a narrow garden. Daylilies reach a mature height of 36 inches and produce blooms in bright colors such as yellow, orange and magenta. Day lilies grow in USDA hardiness zones 3 to 9 and thrive in full sun to partial shade. These plants blend well with other complementary plants or stand alone for a stunning floral display.
Shasta Daisy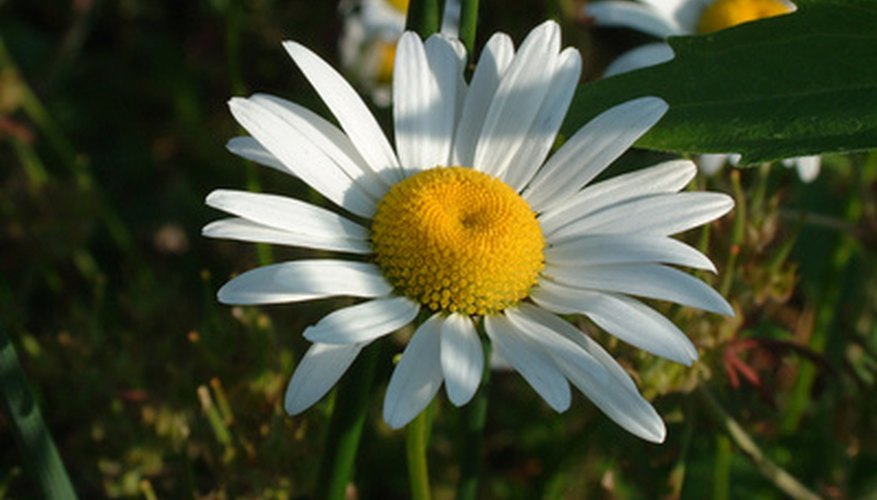 The bright flowers of the Shasta daisy add cheerful color to a garden bed. These traditional daisies feature a long stem with white petals and a yellow center. Shasta daisies prefer locations with full sun to partial shade and reach mature heights up to 36 inches. These plants work well as mid-level plants in a drift garden. The Shasta daisy blooms in June and July and benefits from deadheading to promote more flower production. Use Shasta daisy in zones 4 to 9 for best results.
Russian Sage
Pick a full sun location in any garden for the Russian sage and this plant will thrive. Russian sage produces blue flowers on arching stems. This plant prefers full sun and reaches mature heights of 36 inches. Russian sage blooms for most of the summer and grows best in zones 5 to 9. The plant emits a light fragrance and is extremely drought tolerant. Its foliage has a silver hue that blends well with the medium blue flowers.
Silver Mound
The mounding growth habit of the silver mound perennial provides a tidy edging plant for a narrow garden. This low growing plants features silvery-green foliage that likes full to partial sun locations. Silver mound is drought and heat tolerant and will grow up to 12 inches tall in rich soil. The plant is prized for its delicate foliage and produces a yellow, insignificant flower in the late summer. Silver mound thrives in zones 3 to 7.