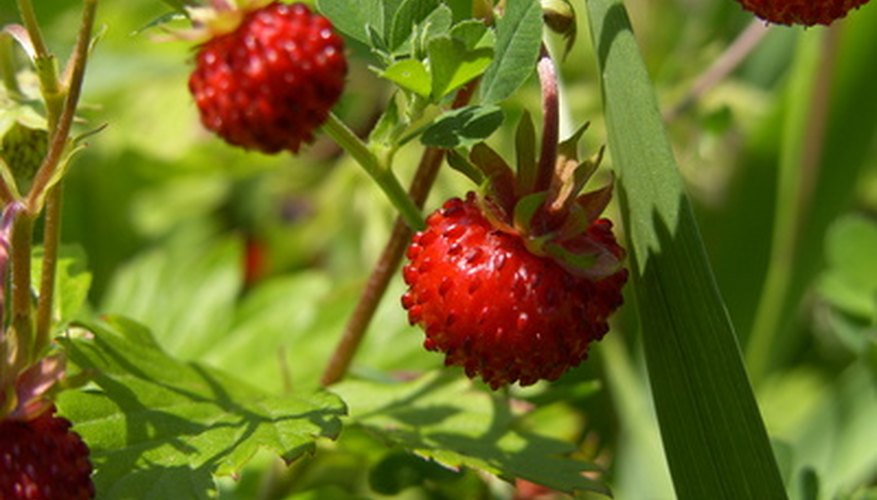 A bed of strawberries containing 25 to 50 plants will feed an average family, according to the Arizona Cooperative Extension. Strawberries will be productive the second year after planting. Growers are encouraged to remove blooms if they do appear in the first season so harvests in subsequent years will be increased. Although strawberry growing does take time and effort, growers who persevere will be rewarded with bountiful harvests that are free from chemicals often added in supermarkets to help berries turn red.
Water and Mulch
Water your plants daily during the early spring and late fall. Use a garden hose with a spray attachment or a watering can to direct the flow of water mainly toward the root system. After completely saturating the roots with water, continue watering the soil around the plant until it is very wet but not seeping.
Water your strawberry plants at least every two to three days during the late spring and summer months. Soak the soil completely to allow water to saturate the roots of the plant without allowing water to stand in the garden.
Add a 3- to 4-inch-thick layer of straw around the strawberry plants to aid in moisture retention. Pick up the leaves of the strawberry plant so you can place the straw directly underneath the strawberry plant. Place a thinner layer of hay 1 to 2 inches thick between rows to aid with weed control.
Fertilize
Fertilize your strawberry plants during the summer after planting with a 16-16-16 fertilizer. Broadcast 4 oz. of fertilizer per 10-foot row with a broadcast spreader. Apply one application immediately after planting, the second one month later, and the third one month after the second application.
Fertilize strawberries in the summer after they begin to bear fruit with a 16-16-16 fertilizer. Use a spreader to apply 4 oz. of fertilizer to each 10-foot row while the plants are dry. Spray the ground around the strawberries very lightly after this application with a garden hose that has a sprinkler attachment.
Fertilize fruit-bearing strawberries in early to late fall with a 10-10-10 fertilizer. Apply 2 to 3 oz. of this fertilizer with a broadcast spreader. Apply a second application two to three weeks later.
Renovate
Cut back the tops of the strawberry plants to 2 inches above the top of the crown or crotch at the bottom of the strawberry plant with a lawnmower that is raised high or with hedge clippers. Remove any cuttings from the area and discard.
Use a garden tiller to thin strips of berry plants to about only a foot wide. Work the tiller in a straight line down either side of the strawberry rows. Remove cut plant material and discard.
Look for plants that appear to be weak or diseased. Dig underneath these plants with a garden trowel to remove them from the strawberry patch. Aim for a density of 50 to 60 plants per 10-foot row evenly spaced.
Things You Will Need
Garden hose with spray attachment or watering can

Hay

16-16-16 fertilizer

Broadcast spreader

10-10-10 fertilizer

Lawnmower or hedge clippers

Garden tiller

Garden trowel
Warning
Only June bearers, the variety that produces one harvest per year in May or June, should be cut back with a lawnmower during the renovation process. Everbearers and day neutral may be trimmed with clippers or allowed to grow.