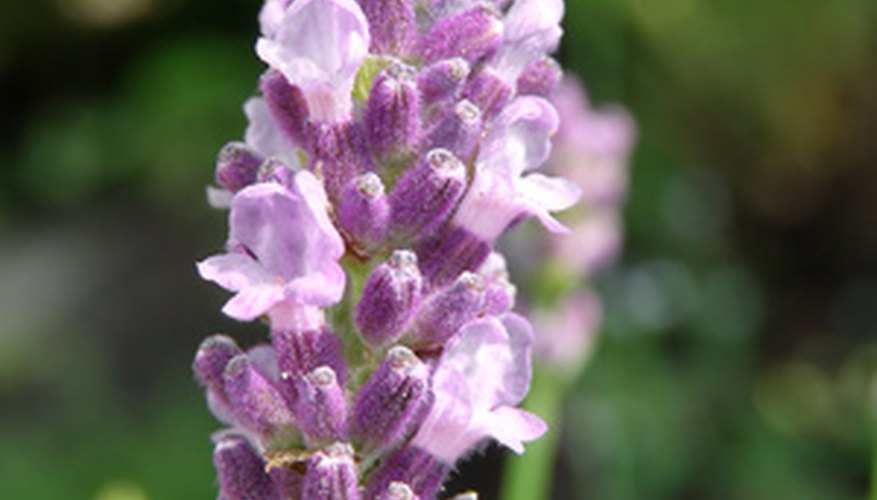 Lavender, a flowering herb often used for aromatherapy and cooking, provides homeowners and gardeners with vibrant, blue-purple flowers to enjoy throughout the summer growing season. Making raised beds for growing lavender gives you the ability to weed and care for these plants more easily, especially if you experience back problems or have trouble squatting for long periods of time. Ellen Spector Platt, instructor at the New York Botanic Garden and author of "Lavender," notes that these sweet-smelling plants require plenty of drainage and full sun, two needs that you can provide more easily by using portable raised beds. Create simple raised beds for your lavender plants using long-lasting cedar lumber.
Determine the width and length you desire for each raised bed you plan to construct for your lavender plants. Research your specific lavender species to determine exact width requirements, but as a general rule of thumb, aim for each bed to be minimally 15 to 18 inches wide for each single row of lavender; this allows plenty of room for your lavender plants' root balls to expand as they grow following planting. Make each bed no more than about 4 to 6 feet in length to make them easier to move.
Cut the 1-by-12-inch boards to length with a jigsaw using a general-purpose blade. Cut two short ends and two long sides for each raised bed; for example, if you plan to create four 18-by-48-inch beds, you'll need to cut a total of eight 18-inch end boards and eight 48-inch boards for the front and back.
Lay one of the end boards flat on the ground and position one of the 12-inch posts parallel to the 12-inch side of the board. Check to ensure that the top, bottom and outside edge of the post is flush with the edges of the board before nailing them together with two 2- to 3-inch galvanized nails. Repeat this process with a second post on the other end of the board.
Gather another end board and two more 12-inch posts and nail them together in the same way to create a second, identical end piece. Position the two end pieces upright on the ground so their corner posts are perpendicular to the ground.
Turn one of the side boards perpendicular to the ground, orienting it so that it rests on one edge. Move the side board across the ground until its 12-inch sides are flush with the outside edges of the end pieces; together the three boards should create a wide U-shape with a length of post at each of the two corners.
Secure the side board to the end pieces by nailing it to the corner posts using two additional nails on each post. Repeat this process with the remaining long side board to close in the open side of the U-shape. Construct additional raised beds for your lavender plants as needed. Position the raised beds in a location that gets approximately eight hours of sunlight daily and fill them with potting soil or equal parts of compost and topsoil to provide plenty of drainage for your lavender plants.
Things You Will Need
1-by-12-inch cedar boards

Jigsaw with general-purpose blade

12-inch sections of 4-by-4-inch cedar posts (four per raised bed)

2- to 3-inch galvanized nails

Hammer

Potting soil/compost and topsoil
References