A staple for fall, winter and spring flower beds, pansies and Johnny-jump-ups (Viola spp.) tolerate cool temperatures and mildly subfreezing temperatures. Massing pansies can provide brilliant flower color when little else is in bloom, with blossoms in colors from white and yellow to purple, orange, blue and red, with contrasting marks of black. Use spring flowering bulbs and more upright-growing annual flowers to contrast the habit of the pansy plants and to mimic or contrast the pansies' petal colors.
Daffodils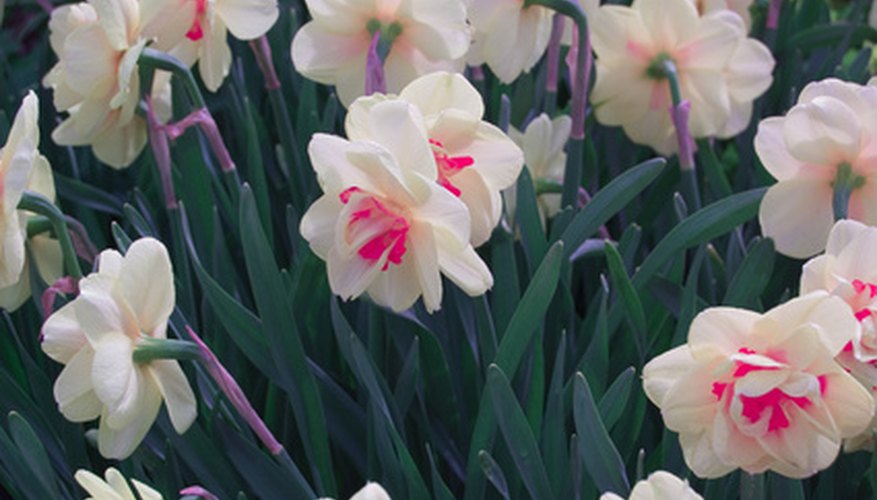 Hundreds of varieties of daffodils and jonquils (Narcissus spp.) exist, with flowering seasons from late winter to mid-spring as well as different flower colors, sizes and shapes. Plant the daffodil bulbs deeply in autumn and then overplant them with pansies. The pansies bloom, and in spring the vertical leaves and flower stems neatly pop up through the pansy display and then bloom about 12 to 20 inches above the carpet of pansies. Keep in mind daffodil bulbs are perennial, and you need to replant pansies each year, but this lets you change colors to play against those of the daffodil flowers.
Tulips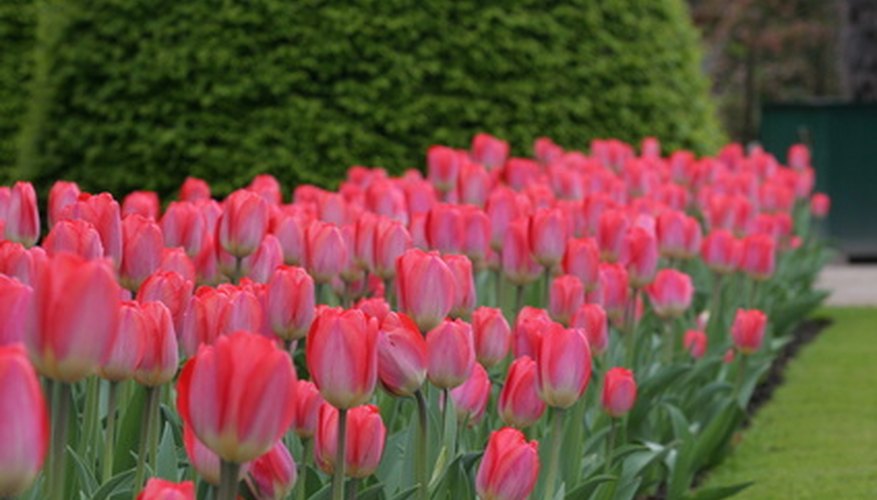 Likewise, plant tulip bulbs (Tulipa spp.) in fall, and overplant them with pansies that have the same or contrasting color as the tulip variety. In spring, the tulip stems rise above the carpet of pansy flowers and create a stunning display. Chipmunks and squirrels eat tulip bulbs, and deer can bite off flower buds. If these critters aren't around, tulips and pansies make great bedding displays. Tulips do not reliably return, unlike daffodils, unless your soil is cool and moist over summer. Simply replant tulip bulbs each fall.
Wallflowers
Wallflowers (Erysimum spp.) grow quickly and appreciate cool fall and spring temperatures. Depending on species or variety of wallflower, you can enjoy small rounded clusters of red, apricot, orange, yellow, white or pink blossoms on upright stems. Choose pansies with solid-colored flower faces to best contrast the more airy, dainty floral display of the wallflowers. Good pansy colors include clear sky blue or dark purple and matching tones of orange, white, yellow or pink.
Pot Marigolds
Also called calendula, pot marigold (Calendula spp.) is nothing like the heat-loving summer marigolds. Pot marigolds look like orange or yellow daisies upon clustered plants with long tongue-like leaves of light green. These plants would make a nice background to the much shorter pansies. For extremely vibrant color displays, pair orange or yellow pot marigolds with dark purple pansies, or choose multicolored pansies with orange and yellow faces.
Snapdragons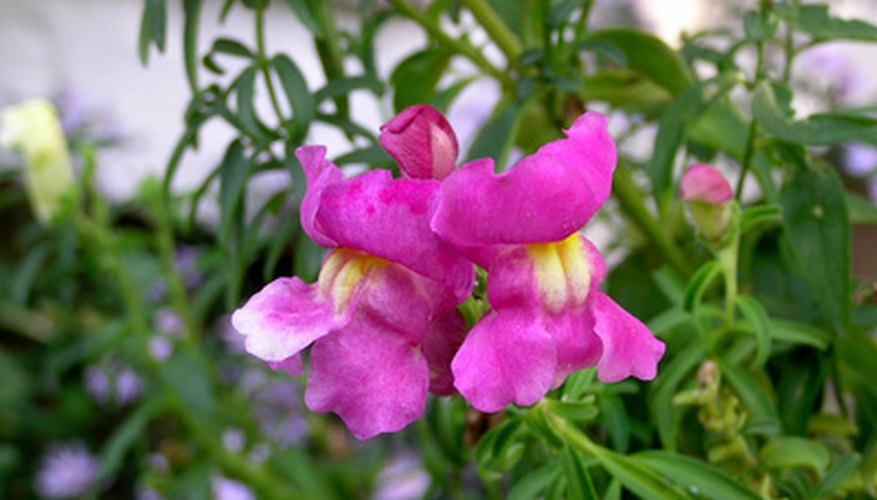 Snapdragons (Antirrhinum spp.) produce upright flower stems lined with many tiny blossoms that look like a stubby dragon face. Flower color and mature flower stem heights vary by variety, but you can find snapdragons that bloom in all shades except purple, blue, green and black. Snapdragons grow best in cool spring or fall temperatures and will survive mild subfreezing temperatures, just like the pansies. Consider staking tall-growing snapdragons so rain and wind don't topple them.
Ornamental Kales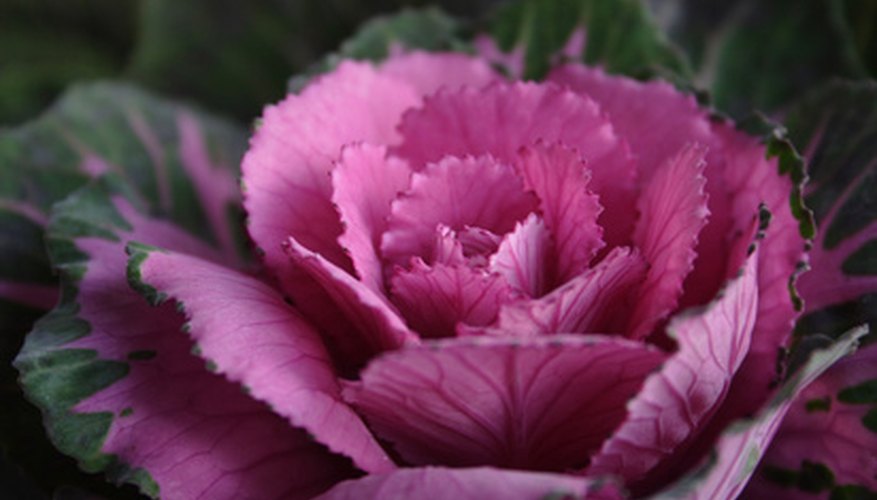 While not grown for their flowers, the large rosettes of frilly leaves that are kissed with white, pink or violet colors make a nice textural contrast to the finer textures of pansies and violas/Johnny-jump-ups. Within a large bed of pansies, evenly space ornamental kales/ornamental cabbages (Brassica oleracea) to look like boats floating in an ocean. Alternatively, group the kales side-by-side to create a mass that contrasts the flower colors in a nearby mass of pansies.