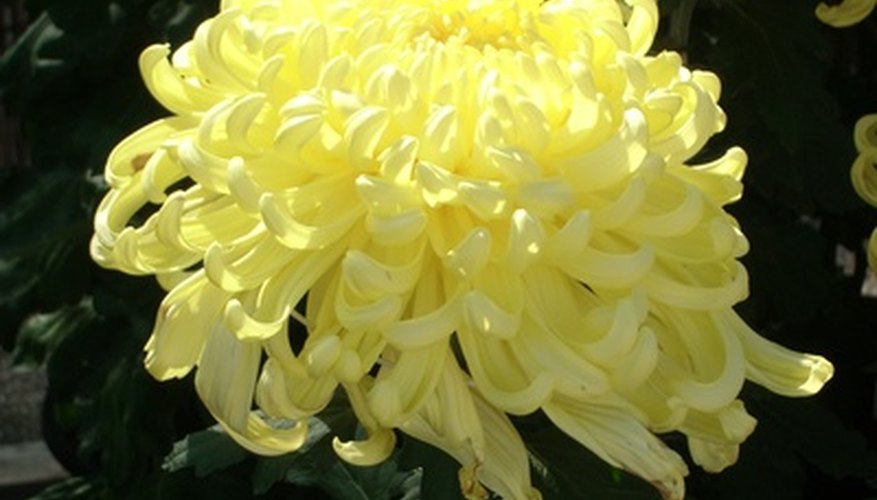 Potted plants add interest to many alternative gardening spaces such as patios or indoor areas. Names of potted plants include a list of options in varying hues and shapes that may thrive in a contained space. Not every plant can withstand potting, so it is important to identify plants that are well-suited to the drainage and other environmental factors associated with pots.
African Violets
African violets are widely used as potted plants, displaying flowers in single, double and multicolors of blue, purple, pink, white and red tints and shades, according to the Iowa State University Extension. Plants blooms grow to different diameters depending on classification: miniature African violets grow to less than 6 inches, semi-miniature reach 6 to 8 inches, standard reach 8 to 16 inches and large grow to more than 16 inches in diameter.
For use as a potted plant, consider miniature varieties as they are compact and well-suited to confined spaces, explains the University of Missouri Extension. Potted African violets prefer night temperatures of 65 to 70 degrees Fahrenheit, 75 to 80 degrees during the day and exposure to bright, indirect sunlight.
Additionally, make sure your African violets have moist, well-drained soil that is allowed to dry slightly between waterings as well as moderate in-home humidity (if environment is dry, consider use of a humidifier).
Azalea
Azaleas are highly available, widely used potted plants that display blooms in a large variety of sizes and colors including options in every color of the spectrum with many varieties in pinks, purples, reds and whites, according to the Clemson University Extension.
For use as potted plants, azaleas prefer cooler temperatures from 60 to 65 degrees Fahrenheit, but they are tolerant to slightly warmer environments. Thriving in an abundance of light, avoid full direct sun as direct exposure might cause fading or diminished health.
Keep azaleas in consistently moist, well-drained soil. The University of Missouri Extension recommends applying a soluble liquid fertilizer once every two weeks if you plan to keep and maintain your azalea rather than discarding it after flowering.
Chrysanthemums
Chrysanthemums are often given as gifts plants and are well-suited for use as potted plants. These plants display vivid full blooms in coral/salmon, pink/lavender, yellow, white, bronze, purple and burgundy, according to the Clemson University Extension.
For use a potted plants, chrysanthemums can be placed in or near a window where bright indirect sunlight occurs; do not expose your potted chrysanthemum plants to direct sunlight.
These potted plants prefer night temperatures of 60 to 65 degrees Fahrenheit and day temperatures of 70 to 80 degrees Fahrenheit, explains the University of Missouri Extension. Keep potted chrysanthemums in moist soil, but be careful not to allow the plant to rest in standing water.
Additionally, because chrysanthemums bloom based on a cycle of short days and long nights, keep these potted plants in dark areas during the nighttime hours as exposure to artificial lights will disturb their ability to flower.