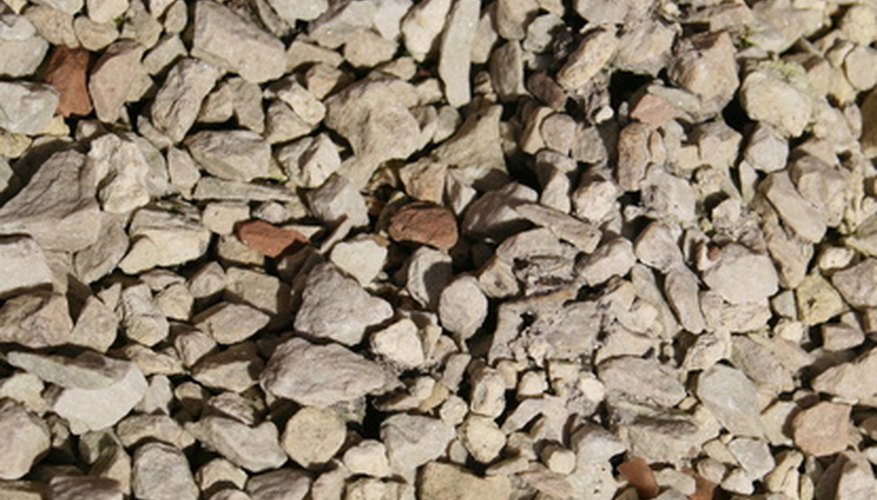 Crushed stone, also called decomposed granite or gravel, has a number of uses in landscaping. Use it for pathways through a garden, as mulch in a border, or as a decorative edging. Charlie Ryrie, author of "The Country Garden," suggests laying landscaping fiber under crushed rock. Colors are natural looking for the most part. Dyed crushed stone is available for a modern look. Create a small patio with crushed stone.
Patio
Rake the area clean of debris, rocks, leaves and branches.
Outline the shape of the patio with the scrap wood. Secure it by hammering in wedges on either side of the wood. The wood serves as a guide. Dig out the soil to a depth of 3 inches. Check to make sure the area is level with the carpenter's level.
Spray the soil with the herbicide to prevent weeds from growing up through the gravel. Or if you're green-minded, lightly spray the area with water. Lay the black plastic over the area. The weeds will sprout and then die back from lack of sunshine and the heat generated by the plastic. Remove the plastic.
Fill the area with crushed stone. Rake smooth. Remove the scrap wood.
Pathway
Dig out the path 2 inches deep. Don't skip this step. If you do there's nothing to keep the crushed stone in the pathway. As you walk on it, the gravel will scatter.
Rake the area smooth. You don't have to make sure it's perfectly level. Walking on it will help level it.
Fill in with crushed stone.
Mulch
Cover the area with landscaping cloth. Cut holes in the cloth to allow the plants to come through if the area is already planted.
Cut an X in the cloth where ever you're going to put a plant.
Cover the cloth with crushed stone.