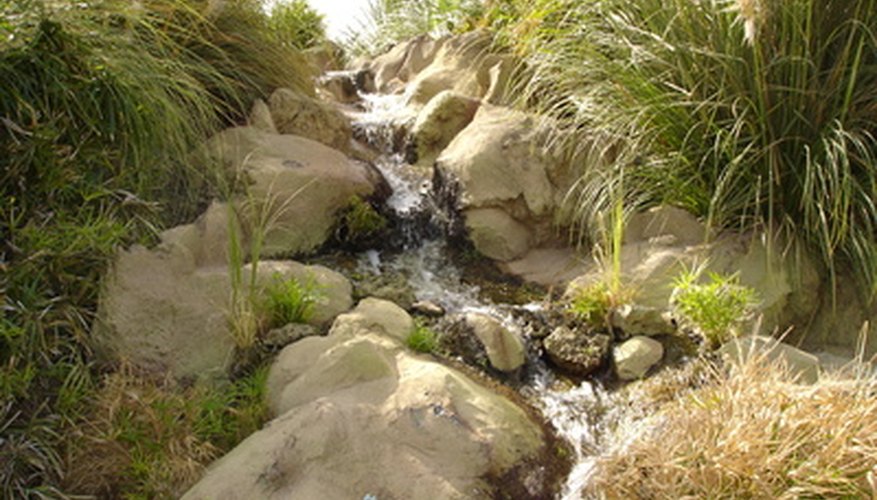 Texas' dramatic population growth has put a severe strain on the state's water supply, according to Texas A&M University Extension. Approximately one of every 4 gallons of the water supply in Texas' cities goes to maintaining gardens. The Texas Agricultural Extension Service recommends xeriscaping (low-water gardening) as a water conservation measure. Many shrubs native to Texas are attractive, drought-tolerant plants ideal for this landscaping concept.
Blackbrush Acacia
Blackbrush acacia (Acacia rigidula) is a 5- to 15-foot-high shrub native to the Texas prairies, roadsides and chapparal from Austin to the Big Bend region. Its nearly white bark contrasts strikingly with glossy, dark green compound leaves. Also known as catclaw because of its curving thorns, blackbrush acacia blooms from March until June. Its rigid branches produce spikes of yellow flowers that give way to narrow, 3-inch seedpods. Flowers draw bees and butterflies to the garden.
Use this spiny pea-family shrub--hardy to 20 degrees F--as a barrier hedge, rock garden or xeriscape plant, suggests the Lady Bird Johnson Wildflower Center. Plant it in partial shade and dry soil. Blackbrush acacia is not fussy about soil type. Prune to produce more branches and heavier bloom.
Scarlet Buckeye
Scarlet buckeye (Aesculus pavia) is a horse chestnut family shrub native to Eastern and Central Texas, where it seldom exceeds 15 feet in height. Its serrated leaves have shiny, green to blue-green surfaces with whitish undersides. They seldom remain on the plants past summer. Between March and May, scarlet buckeye has eye-catching 6- to 10-inch clusters of red, yellow or bi-colored bell-shaped blooms. Hummingbirds flock to these plants. Rare, yellow-blooming (Aesculus flavescens) shrubs grow only in a small number of central Texas counties. Bi-colored shrubs occur where red and yellow plants cross-pollinate, according to the Lady Bird Johnson Wildflower Center.
Plant scarlet buckeye in partial shade and moist, deep acidic to neutral (pH below 6.8 to 7.2) soil. Red-blooming plants prefer sandy, acidic locations while yellow ones do better in rocky, limestone-based soil. Water sparingly and provide protection from afternoon sun. Note that ingesting the plants' seeds and new shoots may be toxic.
Desert Willow
Growing wild in south-central Texas' desert washes and arroyos and along stream banks, desert willow (Chilopsis linearis) reaches between 15 and 40 feet tall. Its trunk may twist or lean. This shrub, hardy to 10 degrees F, has pale green, narrow 4- to 12 inch leaves similar to those of willow trees. From April to September, desert willow blooms with fragrant, ruffled funnel-like purple or pink flowers. Attractive to hummingbirds and butterflies, the blooms may have interior yellow and white spots.
Most abundant in May and June, desert willow's flowers also appear after summer rains. Long, narrow green or brown seedpods appear in early fall. Low-maintenance and drought-tolerant, desert willow is a popular garden shrub. Plant it in full sun in a well-drained spot. Desert willow prefers limestone-based soil. Increase flowers by letting plants dry out between waterings