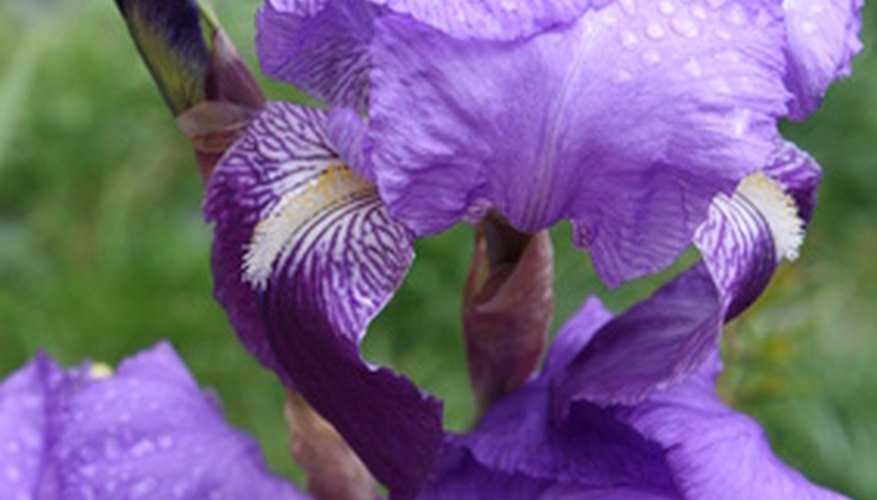 The plant family of iris has 260 species that are divided into bulb types and rhizome types. Within the rhizome type are those classified as bearded, beardless and crested. The different types of iris flowers are well suited to a variety of growing conditions. The name iris refers to the Greek goddess Iris, who was named for the colors of the rainbow. Rhizome irises are an evergreen perennial, and bulb irises go dormant for part of the year. There are many varieties within each type of iris classification.
Bearded Iris
Bearded iris is the most familiar variety to most people. It has a caterpillar-like fuzzy line at the top of the inner petals called a beard. Occasionally the fuzzy line extends out over the drooping petal. The outer petals are called falls, and the inner petals are the standards. Bearded varieties such as the historic 'Mrs. Valerie West' and 'Seminole' thrive in ordinary soil and with little water. They prefer heat in the summer and cold winters. Other traditional blue and lavender varieties are 'Santa Barbara,' 'Lady Foster' and 'Conquistador.' Bearded irises do well when given a slow-release fertilizer such as compost, and they do not like mulch layered on their rhizomes. Many bi-colored bearded irises are available at garden centers to plant in fall or spring. 'Fashion Queen' has tangerine standards, purple-blue falls and an orange beard. It blooms in June, as 'Blueberry Bliss' does. Bright blueberry is the color of all its petals.
Beardless Iris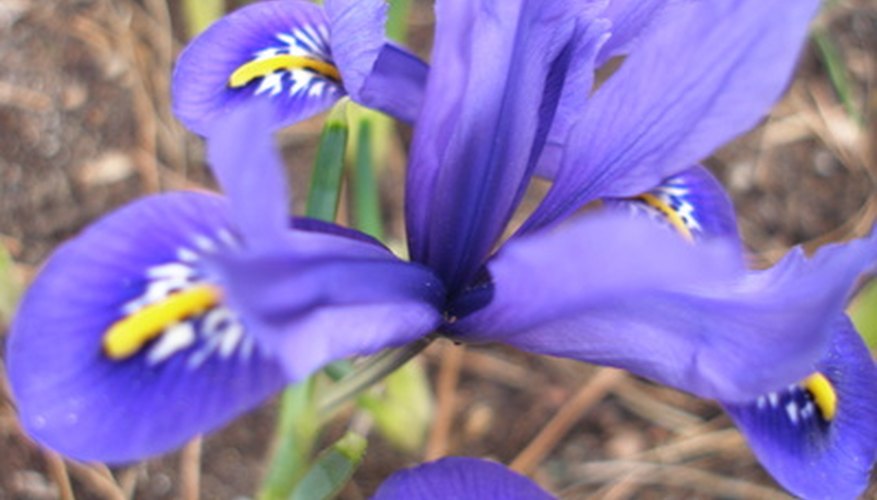 Beardless irises have a flash of color where the fuzzy line is on bearded iris. Louisiana, Japanese, Siberian and Pacific Coast are common varieties. Siberian iris like cold winters, and they do well in damp garden spots. Pacific coast irises are extremely drought-tolerant and thrive in slightly acid soil where it is sunny. Louisiana irises often have ruffled edges and very bright, pure colors. They are an evergreen variety that flowers in early spring. Beardless iris need to be divided every three to four years because the rhizomes become crowded and produce fewer blooms. Replant them in an area that allows for three years of rhizome spreading growth.
Crested iris
Crested irises have a small raised area where the beard is on other iris varieties. They are less familiar to most gardeners, even though this species is native to the Appalachian Mountains. 'Iris Cristata' thrives in cool, semishaded areas with slightly acid soil that is high in organic humus content. Its flowers are blue-violet with an orange crest. The 'Iris Tectorum' is widely known as the Japanese roof iris because it was grown on the thatched roofs of Japanese and Chinese houses. 'Bourne Graceful' and 'Fairyland' have ruffled petal edges and look like orchids. The crested varieties go dormant in the wintertime and prefer a layer of mulch as protection.