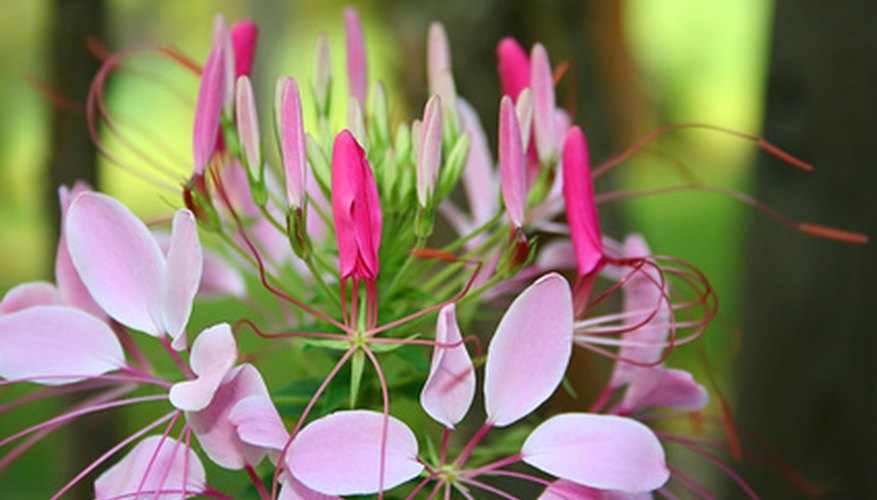 Plants that flower in June start performing just in time for those wedding receptions and graduation parties. Ushering summer in with color, fragrance and form, they replace fading spring tulips, peonies and early lilies. The same plants will flower earlier or later in the month, depending on the local climate. June-flowering plants include perennials, annuals, shrubs, trees and vines, so you'll never run out of creative combinations to renew your summer garden each year.
Mock Orange 'June Bride'
Mock orange (Philadelphus microphyllus), a drought-tolerant shrub of the hydrangea family, grows wild from Texas, Western Wyoming and Southern California. A gracefully arching, densely branched bush, it can reach 15 feet tall. Its fragrant flowers, peeling bark and delicate leaves make mock orange an attractive garden plant. 'June Bride' is a smaller--up to 6 feet high and wide--cultivar hardy to minus 20 degrees F. In late May and June, its fragrant white flowers contrast strikingly with deep green foliage.
Plants are susceptible to a few pests and diseases, including powdery mildew, rust, aphids and scale. Use this shrub, recommends the Missouri Botanical Garden, as a low hedge, foundation planting or in a shrub border. Give it dry to averagely moist, well-drained soil and full sun to partial shade. It suffers where drainage is poor.
Blue Pimpernel
Blue pimpernel (Anagallis monelli) is a low-growing Mediterranean perennial. Hardy to 10 degrees F, it reaches 6 to 12 inches high and up to 18 inches wide. Plants bloom profusely from June until frost. They have brilliant blue, saucer-like, 3/4-inch flowers above elliptical, green 1-inch leaves. Red centers make the blossoms even more eye-catching.
Blue pimpernel makes an attractive ground cover, container or hanging basket plant. Use it in rock gardens and borders. Provide full sun to partial shade and sandy or humus-rich, well-drained soil. Plants in poorly-drained spots may develop root rot, cautions the Missouri Botanical Garden.
Spider Flower
Spider flower (Cleome hassleriana) is a June- to frost-blooming annual native to South America. Quickly reaching from 3 to 6 feet high, it has stiff, upright stems with sticky, green foliage. The leaf stalks have thorny bases. Plants bloom with dense clusters of fragrant, spidery flowers in pink, white and purple. Narrow brown seedpods follow the blooms.
Spider flower is attractive in borders and containers, as a foundation plant or along fences, according to the Missouri Botanical Garden. Plant seeds where they are to grow after the last spring frost. Give spider flower full sun and dry to averagely moist, well-drained soil. Check it for aphids and rust. Remove seed pods to prevent unwanted spread.