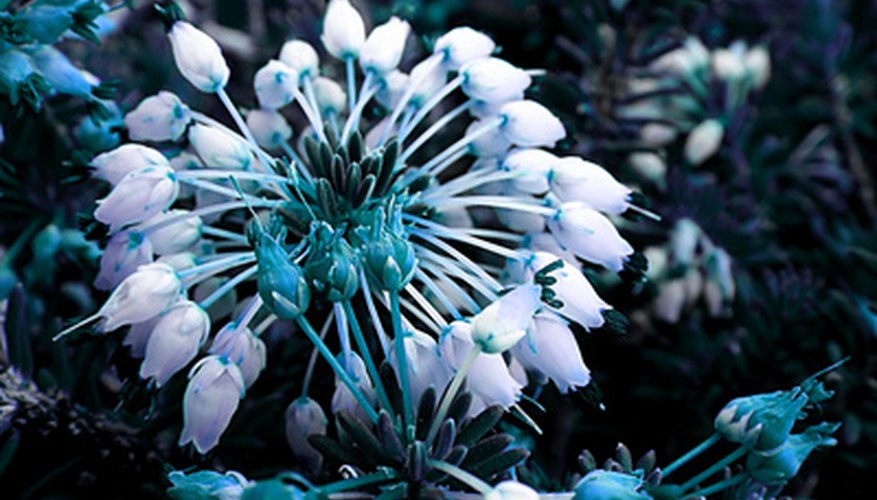 When you are choosing plants for your garden, pick shrubs and plants that complement each other. For the background, pick shrubs that have flowers blooming in spring. Pick lower-growing plants to go in front of the shrubs that bloom in the summer. When the flowers are gone from the shrubs and the flowers bloom on the plants, the leaves left on the taller shrubs will make a background for the lower flowers, and there will be color right through to the fall and beyond.
Winterberry
Winterberry (Ilex verticillata 'Spriber' BERRY NICE) is a female deciduous shrub that is hardy in USDA zones 3 to 9 and grows to a height and width of 6 to 8 feet. The plant produces dark-green leaves from 3 to 5 inches long, and white flowers bloom in May and June. The shrub does well in full sun or partial shade. Give the plant a soil that is moist to wet. A male variety of winterberry--Southern Gentleman or Jim Dandy--must be planted for the Spriber to produce bright red berries.
Black Jetbead
Black jetbead (Rhodotypos scandens) is a member of the rose family and a native of China and Japan. The shrub grows up to 5 feet tall and 7 feet wide. The plant produces bright-green, serrated leaves that turn chartreuse in the fall. White flowers bloom in May and stay on the shrub for two weeks. The flowers are followed by small, green fruits that mature to black and stay on the plant until the next spring. Black jetbead does well in any combination of sun and shade and likes a soil that is moist and well drained.
Garden Thyme
Garden thyme (Thymus vulgaris) features gray-green leaves just 1/2-inch long . The plant grows from 6 to 12 inches tall and about twice as wide. Lilac to purple flowers bloom in the summer, growing in compact clusters. Thyme needs an alkaline soil--one that is rich with lime and moist. The plant grows in either full sun or partial shade and is hardy in USDA zones 5 to 9.
Chinese Indigo
Chinese indigo (Indigofera decora f. alba) grows in USDA zones 5 to 8, reaching a height of 12 to 18 inches and a spread of 2 to 6 feet. Compound, medium-green leaves are composed of seven to 13 elliptic-shaped leaflets. Tiny, white flowers grow in 8-inch-long clusters in June and July. Plant in full sun and give the plant a moist, well-drained soil.