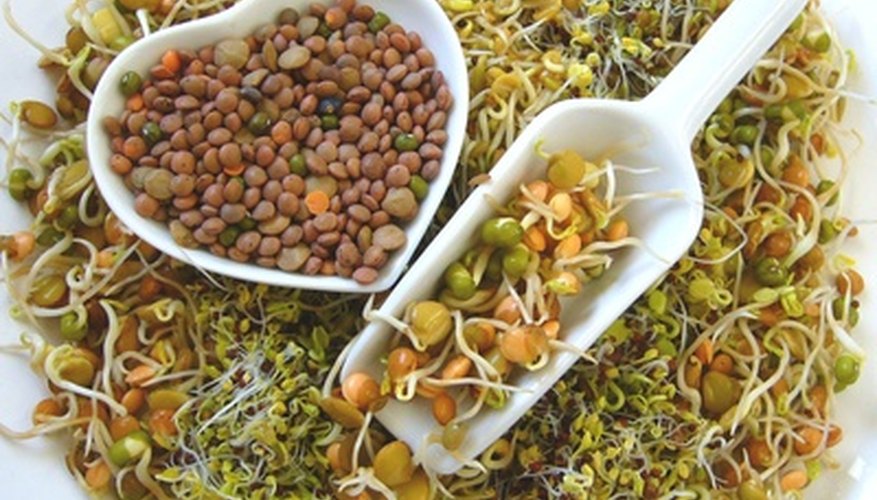 Sprouting seeds for use on sandwiches or in cooking is no longer for just the health nut. People everywhere are discovering the beneficial nutrition and flavor that sprouted seeds can add to a meal. Fresh sprouts take between three to seven days to grow, depending on the type of seed. Unlike growing other vegetables, sprouting seeds requires very little equipment and no previous experience is necessary.
Soak up to 2 tbsp. of certified spouting seeds overnight in a bowl filled with water. For larger seeds, such as mung beans or lentils, you may only need 1 tbsp. of seed.
Drain the seeds the following morning to remove the water.
Tear off three paper towels from a roll and stack together. Wet the paper towels thoroughly under running water and wring them out. Spread the towels over a dinner-size plate.
Place the drained seeds in an even layer on the wet paper towels.
Cover with a second set of three wet paper towels. Cover the towels with an inverted dinner plate. Place the plates in a warm area.
Remove the dinner plate from the top and wet the top paper towels twice daily.
Check the sprouts after the third day to determine size. If they have reached the desired size, remove the top set of paper towels and harvest the sprouts. If not, continue to wet the paper towels until the sprouts have reached the desired size.