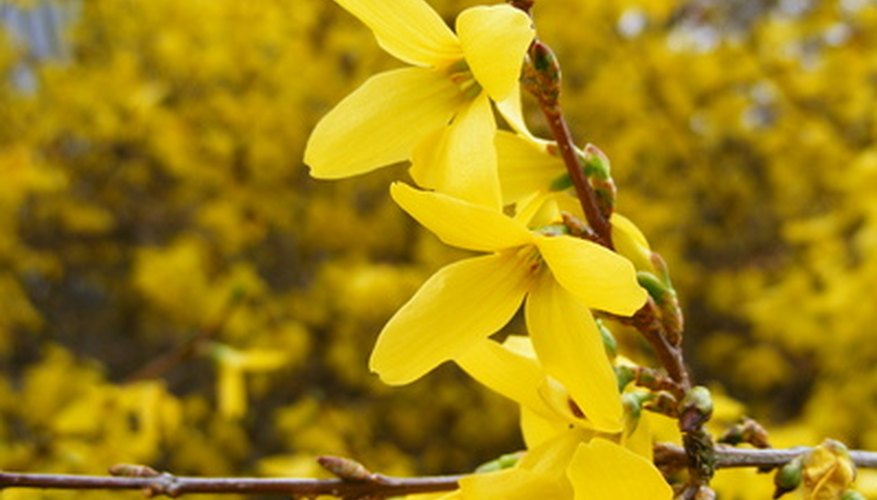 Certain types of shrubs are not only cultivated to add structure to a landscape, but for their flowers too. Bushes should not be discounted when it comes to designing a garden or yard with colorful and fragrant blooms, particularly since their flowers are enjoyed year after year. Select varieties that require little care once they are established for low-cost beauty and time conservation.
Rose-of-Sharon
Rose-of-Sharon bushes are members of the hibiscus family and resemble those tropical, showy flowers in shape and size. The large, flat flowers bloom in the summer when few other shrubs are in bloom and come in blue, lavender, pink, purple, red and white hues. This deciduous shrub thrives in USDA zones 5b through 9A. It grows up to 12 feet tall and 10 feet wide and, with some pruning, makes a good small ornamental tree. Grow rose-of-Sharon in full sun or partial shade. It tolerates wet soil and moderate drought conditions.
Lilac
Lilac bushes, some of which grow tall enough to become small trees, are prized for their sweet-scented flowers that bloom in the spring and early summer. The tiny, tubular-shaped buds bloom on panicles that form on the previous year's shoots. These Asian and southeastern European natives are primarily grown as ornamentals, but are also used as windbreaks and screening. They grow up to 12 feet tall, have up to a 10 feet spread and are very long-lived. These bushes thrive in a wide range of soils and tolerate wet and dry conditions. Plant them in full sun, and water and weed around them as they become established.
Forsythia
Forsythia bushes are also tolerant of many soil and moisture conditions, but they thrive best in areas that receive full sun. Most varieties grow up to 10 feet tall and 12 feet wide. The wide, spreading shrubs are vigorous growers that have arching branches. The flowers are small and bright yellow; they bloom in March and April and last from two to three weeks. Cultivate these bushes for borders, in mass plantings and as screenings.
Butterfly Bush
These deciduous shrubs have a weeping form and can grow up to 12 feet tall and 15 feet wide. Their foliage is grayish-green and unassuming. Gardeners grow this bush for its attractive flowers, which draw butterflies. Certain cultivars are also fragrant. Flower colors include blue, purple, white, pink and red, and include an orange center. They are hardy to USDA zones 5 to 10, but reach their full size in warmer climates. Grow butterfly bushes in well-drained soil that is allowed to dry between waterings once the plant is established. Cultivate them in full or partial sun. In northern climates, the branches will die back to the ground but return in the spring. Pinch off spent blooms to prolong flowering.