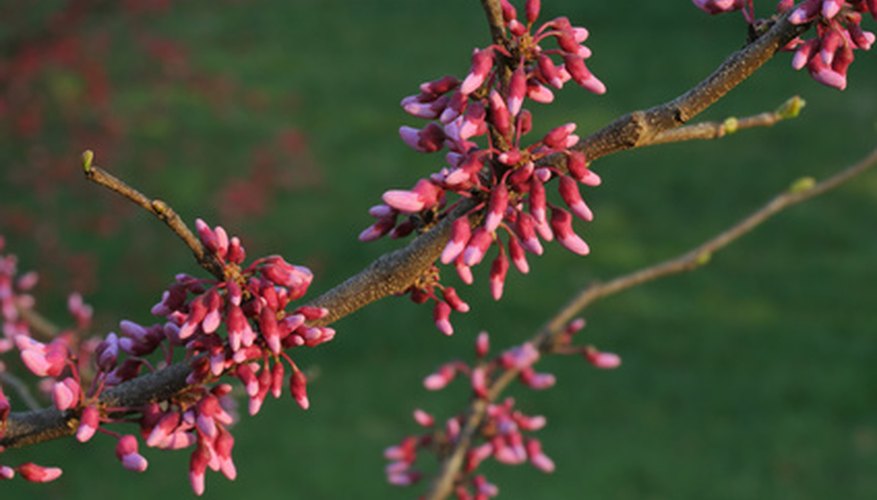 Many plants that grow in the shade are already low-maintenance options, but some are more hands-off than others. Before you make a selection, visit your space and determine how much shade the area gets. Some plants can tolerate dense shade, while others need at least partial sun in order to thrive. The University of Minnesota Extension warns that moisture is as much a concern as lack of light in shaded areas. Your selections may need additional watering until they become established in their new home.
Groundcovers
Periwinkle (Vinca minor) has foliage that is semi-evergreen to evergreen. The leaves have a shiny, waxy look and the plant is covered in small purple flowers. This tough, spreading plant can handle poor soil conditions and fill in problem areas beneath trees, even in full shade. Pachysandra will tolerate even deep shade, performing best when it avoids light. According to the Clemson University Extension, it will grow even under evergreen trees where few other plants will take hold. Its evergreen leaves may be deep green, mottled or variegated.
Ferns
Ferns are well-adapted for conditions of partial sun and are practically maintenance-free once started. The plants are rarely troubled by pests or disease. Ferns are available that are tolerant of heat and cold. Their light, airy foliage adds mystique, movement and a cool feel to the landscape. Purdue University Extension reminds gardeners that ferns come in far more than simple shades of green; varieties with shades of chartreuse, red and silver are available. Some varieties can reach up to 6 feet in height.
Trees
Spring flowering trees tend to tolerate shady areas well. They are usually found in partial sunlight conditions at the boundaries of forested areas, alongside taller trees. Dogwoods and redbuds are two examples. The trees produce early spring flowers before they fill out with foliage and can cheer a dim corner of a yard. Redbuds can also stand alone as an interesting specimen.
Daffodils
Daffodils are one of the most hardy and low-maintenance of all of the flowering bulbs. While daffodils will tolerate some care and feeding, gardeners can allow them to go wild--plant the bulbs and leave them be. Plant the bulbs in fall for a spring spray of color. The flowers do well beneath trees and along pathways but can also brighten a shady area of the yard or garden. Spring rains should be sufficient to sustain the bulbs in most areas. Take care not to plant them in a spot where moisture accumulates, or the bulbs may rot in place.