garden tool in hand image by Richard Seeney from Fotolia.com
Different garden rakes perform specific tasks around the home landscape. These essential garden tools perform tasks such as leaf collection and smoothing landscape surfaces in preparation for planting. Types of garden rakes include hand-operated tools as well as attachments for mowers to cultivate large garden plots. The purpose of most rakes is shallow cultivation of the soil, weed removal and leveling garden soil.
Hand Rake
The hand rake features a three-pronged fork attached to a sturdy wooden, plastic or metal handle. The tines are thick and spaced 1 to 2 inches apart. Hand rake tines bend downward at a 90-degree angle to allow gardeners to pull the points through the soil. Gardeners use hand rakes for weeding around plants and cultivating the top layer of soil. The smaller tines work well for etching fine furrows in the soil for planting seeds.
Bow Rake
The bow rake is a larger version of the hand rake. This rake has widely spaced tines placed along a strong metal frame. Bow rakes have a long handle for easy use when standing. The rake head attaches to the long handle and spreads outward in a bracket shape that connects to a strong metal band. The tines attach to the metal band and point downward towards the ground. Gardeners use bow rakes for heavy raking jobs, such as cultivating deep into the soil of a vegetable garden. The bow shape of this tool allows flexibility between the handle and metal rake head for heavy gardening tasks.
Leaf Rake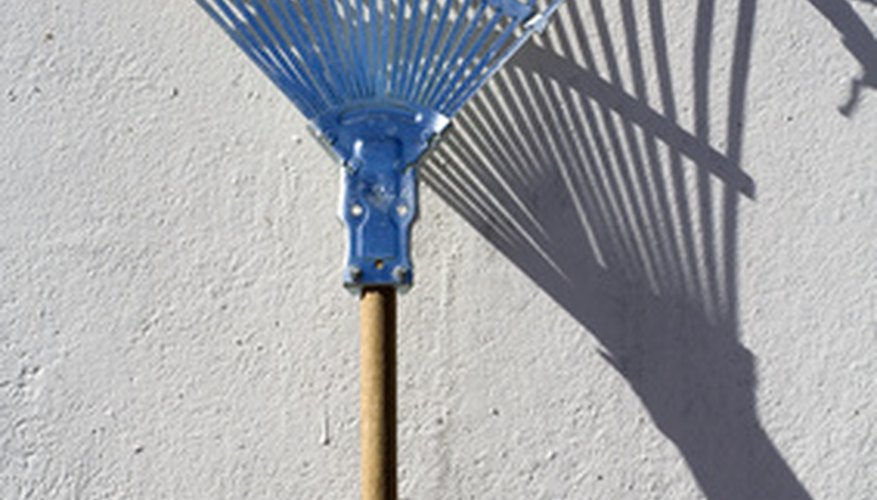 The leaf rake may seem like a tool reserved for the lawn under mature trees. This rake comes in handy in garden beds to collect leaves from garden surfaces. Leaf rakes feature a long handle with a flexible metal rake head. The rake head is made of flexible metal or plastic tines positioned into a fan shape. Tine ends angle slight downward to grab leaves easily. Gardeners can also use it outside the garden on lawn areas for leaf and debris clean up.
Level Head Rake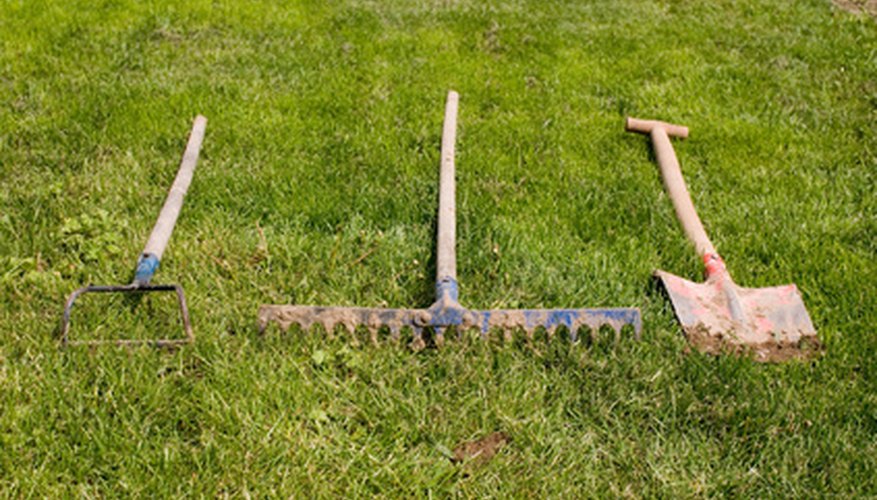 garden tools on the grass image by Bartlomiej Nowak from Fotolia.com
This type of rake is essentially a bow rake without the flexible frame attaching the handle to the rake head. Level head rakes have a handle that is perpendicular to the rake head. The rake head design features a straight metal frame with tines pointing downward at 90-degrees. Level head rakes work well for smoothing garden surfaces after rototilling or after mulch applications.