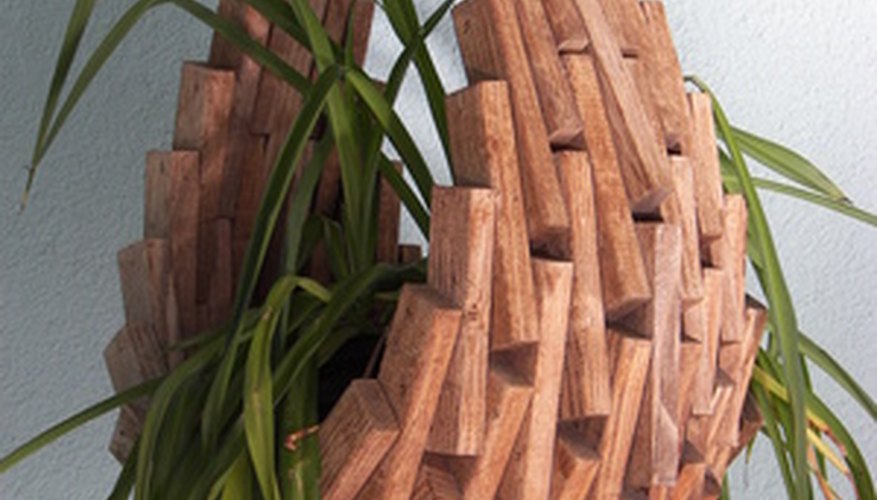 Most houseplants, such as the spider plant, are distantly related to tropical plants that thrive in the subcanopy of tropical rain forests. Because tropical subcanopy plants grow in warm conditions with little light, they adapt well to the environment of a home, which are kept artificially warm and do not provide an abundance of natural light. Though these plants may live for many years in the same container, a homeowner may wish to transplant their tropical house plants into larger containers to renew the plant's vigor when they become root-bound.
Create a potting mix for your tropical plants that contains 1 part peat moss, 1 part vermiculite and 1 part perlite.
Sterilize the soil mix by placing it in an oven-safe bag. Moisten the soil with water and close the bag. Place the bag in an oven roasting pan. Roast the soil in an oven at 200 degrees for 30 minutes. Allow the soil to cool.
Cut a piece of window screen so that it will cover the bottom drainage hole in your container. Place the screen over the container's drainage hole. Fill the container 1/3 of the way full of soil.
Turn your plant on its side in its older container. Support the plant with one hand and gently tap on the bottom of the plant's pot with the other hand to release the root ball. If your plant has spines, support the plant with a cloth sling instead of your hand.
Place the root ball of the plant into the soil of the new container. Fill in around the sides of the root ball with soil up to the soil line of the root ball. Do not cover the top of the root ball with soil.
Leave an inch of space between the soil line and the lip of the container to allow space for the plant to collect water when you water it.