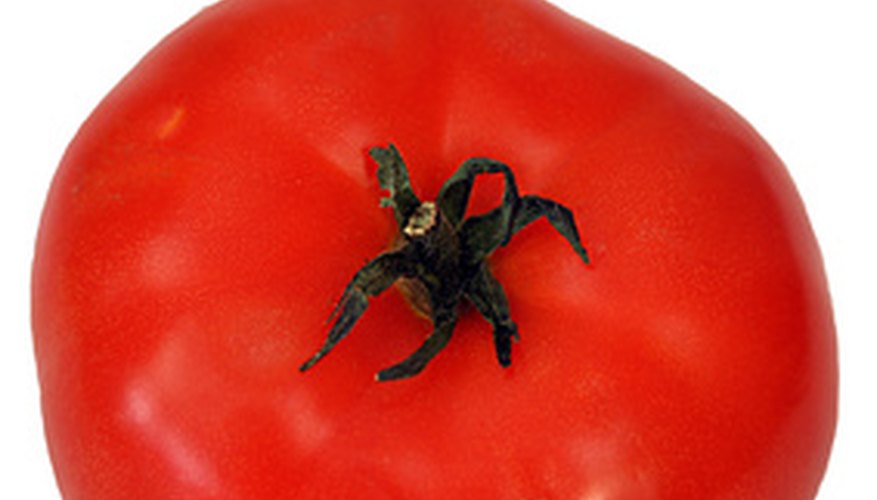 The Beefsteak tomato hybrid, originally cultivated by New York farmer, Johann Heinrich Muster, is the largest variety of the Solanaceae family. Beefsteak hybrids grow on indeterminate plants and produce massive fruits weighing 1 lb. or more. Beefsteak tomatoes, which mature 75 to 95 days after planting, grow best in full sunlight and rich, well-draining soil and the support of stakes or cages.
Beefmaster
The Beefmaster variety produces 1- to 2-lb. solid, flavorful fruits on indeterminate vines. This hybrid is resistant to a variety of diseases, including verticillium and fusarium wilts and root knot nematodes. Beefmaster tomatoes should be started indoors five to six weeks before the last expected frost and reach maturity within 80 days of planting.
Aussie
The Aussie Beefsteak is an Australian heirloom that grows on vigorous plants and produces massive, ribbed fruits up to 2 lbs. Maturing within 85 days of planting, Aussie tomatoes have an even combination of acids and sugars, creating rich, old-fashioned tomato flavor.
Brandywine
Brandywine is an Amish heirloom dating back to 1885. Maturing within 80 to 85 days of planting, Brandywine tomatoes reach 1- to 1 1/2-lbs. and grow on tall vines with potato-leaf foliage. Fruits are reddish-pink with a creamy texture and succulent flavor.
Dinner Plate
The Dinner Plate Beefsteak is a slow-growing, indeterminate variety that matures within 90 to 100 days of planting. Producing voluptuous, heart-shaped fruits which, when sliced, can fill their namesake, Dinner Plate tomatoes have mottled skin, bright red flesh and intense flavor.
German Giant
German Giant tomatoes mature early, within 77 days of planting, and produce enormous fruits often weighing over 2 lbs. German Giants have potato-leaf foliage and produce an abundant harvest of sweet, pink-fleshed fruits throughout the season.