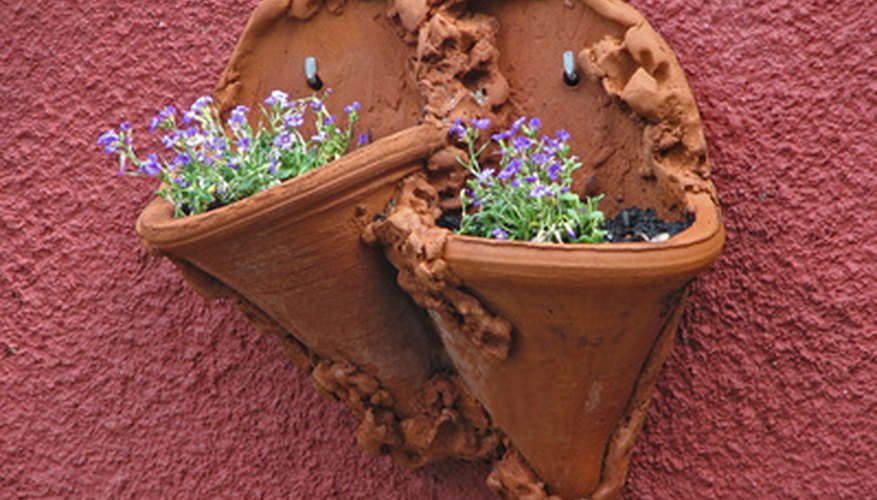 Use pots and other containers to grow a wide variety of flowers and other plants. When lightweight pots and soils are used, moving plants to various parts of the garden becomes possible. Most plants require extra watering when confined to containers. Purchase pots and plants suitable for pot culture online, through mail order or from local gardening stores.
Privet Hedge
Privet hedge (Ligustrum obtusifolium) does well in containers because it is drought tolerant and requires little fertilizer. If left dry for too long, privet hedge will drop its leaves without dying. This gives gardeners ample time to remember to water it before the plant perishes. Use potted privet as movable hedging, trimmed into a topiary or tree form, or grow it in its natural bush state. Privet hedge prefers soils that have plenty of organic matter. A well-balanced fertilizer will promote lush growth and also the best flush of blooms possible. Prevent seedlings by removing spent blossoms.
Miniature Roses
Plant miniature roses in decorative pots for fragrant summer blossoms. Their small stature and tiny blooms make miniature roses popular container plants. Pinching fading blossoms promotes more flowers and bushier plants. Just like larger varieties, miniature roses need full sun to thrive. If they're being grown indoors, a grow light helps promote optimal growth. Miniature roses prefer moist soils that are rich in organic matter. Fertilize weekly for the best blooms.
Blue-Eyed Grass
Blue-eyed grass (Sisyrinchium angustifolium) has grass-like foliage and tiny, star-shaped blossoms that look good in planter pots. A member of the iris family, this species grows in neat clumps that are suitable for use as "hair" in tribal head pots, in long pots as border plants and in windowsill pots for a spot of purple-blue color. Blue-eyed grass prefers moist soils that are light enough for its roots to penetrate easily. It can, however, handle hard clay soils as well as nutrient-poor sandy growing conditions. Feed blue-eyed grass with a low nitrogen fertilizer once monthly to bi-monthly to promote blossoming. This plant reseeds itself readily, so deadhead it if you do not want seedlings.