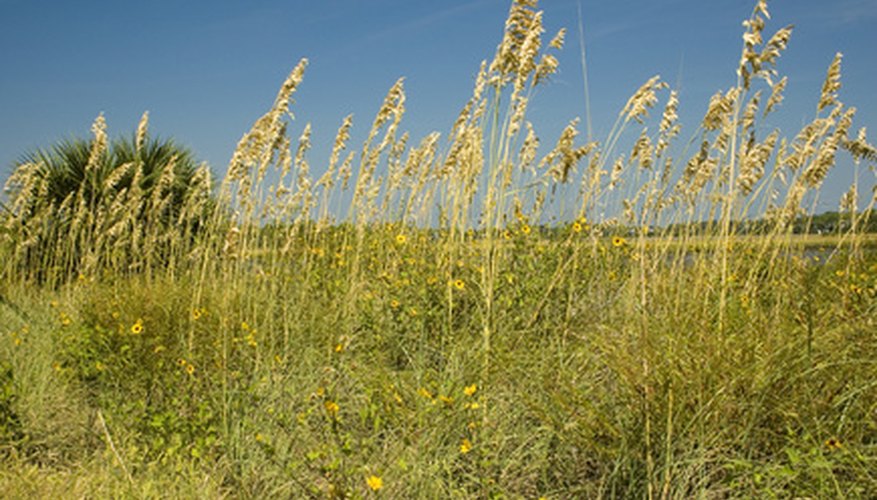 Most gardeners overlook using native grasses in their landscape, because they are unfamiliar with them. Native grasses not only add gracefulness to a garden they are also beneficial to wildlife and insects by providing shelter, food and nesting areas. Most native grasses are suitable as a landscape feature, accent or border plant or a backdrop in perennial and annual flower gardens. Native grasses are hardy and relatively problem and maintenance free.
Wire Grass
Wire grass (Aristida stricta), also called Aristida beyrichiana, is a fast-growing, perennial, clumping type of native grass that grows well in U.S. Department of Agriculture planting zones 8 through 11. It is well suited for use in native gardens and xeriscaping. Tan flowers bloom year-round.
The grass grows 2 to 4 feet in height with a spreading habit of 2 to 3 feet. Wire grass prefers growing in well-draining, sandy soil that is slightly acidic to acidic. It has a high drought tolerance, but will look and grow best with regular weekly watering. Its low salt tolerance makes it unsuitable for areas directly along the coast.
River Oats
River oats (Chasmanthium latifolium) is a perennial grass well suited for growing in USDA planting zones 8 and 9. River oats, also called northern sea oats and Indian wood oats, is fast growing and has tan to bronze oat-like flowers produced summer throughout fall. It is an attractive, native grass utilized in floral arrangements for its long sprays of oat-like flowers. River oats is suitable as a background plant in native, butterfly and flower gardens. Butterflies are attracted to the blossoms.
The grass grows best planted in full to partial sun conditions and tolerates a wide range of well-draining, slightly acidic soil mediums. River oats has a medium drought tolerance. The grass will perform best with regular watering. It is not suitable for planting directly on the coast as it has a low tolerance to salt spray.
Florida Gama Grass
Florida gama grass (Tripsacum floridana) is a perennial, native grass, growing best in USDA planting zones 8 through 11. It has a medium growth rate and is a clumping variety. The grass is an attractive addition to landscapes with its yellow flowers produced spring throughout summer. The grass is suitable for use as a background plant, xeriscaping, and on slopes and banks.
Florida gama grass prefers growing in full to partial sun and reaches 2 to 4 feet high at maturity with a spread of 4 to 6 feet. It is tolerant to a wide range of well-draining soil and has a medium drought tolerance. The grass has a medium tolerance to salt spray.