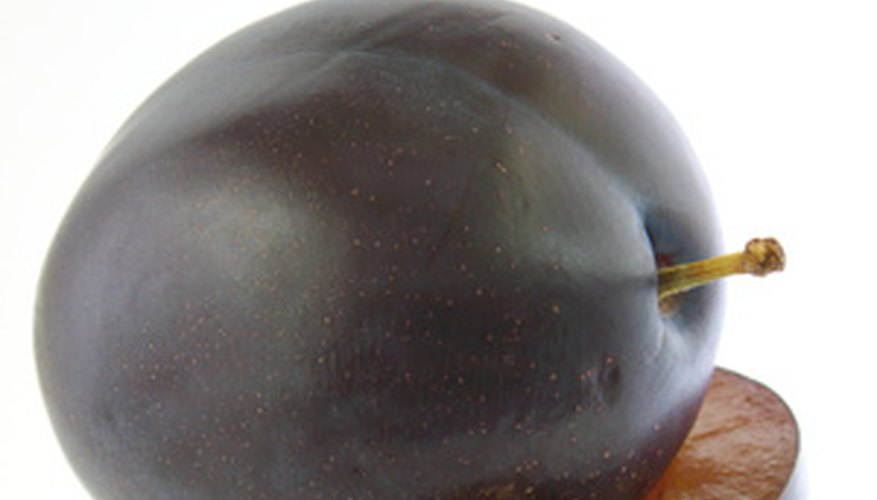 The varieties of plums that are currently know as Japanese plums were brought to Japan from China in the 1800s. These types of plums are known for their juicy taste. They differ from European plums in terms of sweetness; European plums are sweeter. The Satsuma, Kelsey and Friar plums are all varieties of Japanese plums.
Satsuma plum
The Satsuma is a large plum, often nicknamed the "blood plum" because of its dark red color. The juicy taste is a mix of spicy and sweet. Satsuma plum trees produce fruit in mid-season but can continue to bear fruit as late as July and early August, depending on the location.
Kelsey plum
The Kelsey plum is distinctively heart-shaped with greenish-yellow skin. As the fruit ripens, the color changes from green-yellow to a blush red. What is unique about this sweet Japanese plum variety is its low acidity. Kelsey plums have green skin that changes into a beautiful yellow color with red when ripe.
Friar plum
The Friar plum, or Prunus salicina, is a large heart-shaped plum, typically with black skin and amber flesh. The Friar variety can produce plums with a green to yellow color, or a deep red, but the black fruit is the most popular type. This plant can grow to be up to 20 feet and tends to spread fairly wide. These plums are best enjoyed fresh.