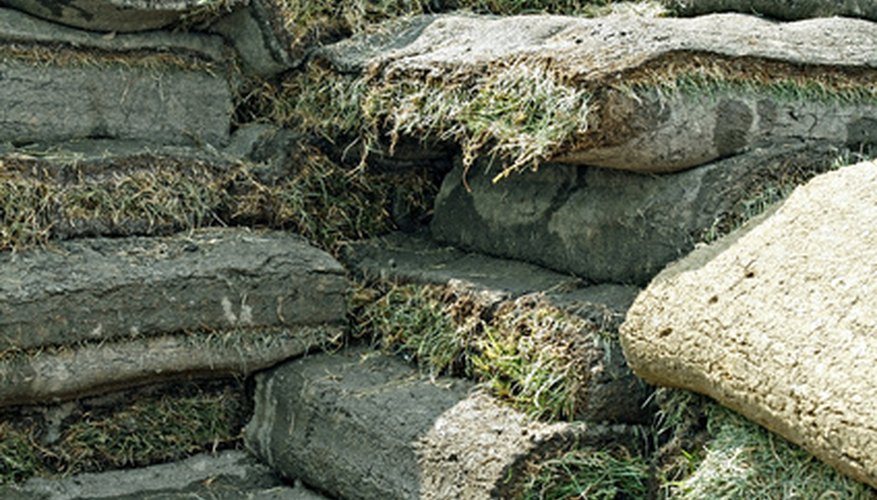 A dead or dying lawn not only brings down your property value, but also causes a landscape to look ugly and unkempt. When putting in a new lawn you can either seed or lay down sod. Laying sod gives you the benefit of not having to wait for the seeds to sprout. Instead, you have a full, lush lawn as soon as you place the sod down upon the ground.
Wait until late summer or early fall if possible. According to the University of Rhode Island Landscape Horticulture Program, this is the best time to lay sod as the growing conditions allow for better rooting than during other times of the year.
Clear the land of grass, weeds, twigs, rocks and other debris so you're starting with a clean patch of land.
Test the pH level of the soil. Ideally the pH level should be between 6.0 and 7.0 for best growth results. Amendments should then be made if necessary. Add elemental sulfur to lower pH and limestone to increase it.
Correct drainage problems if any exist on your property. When water collects and refuses to drain in certain places on your lawn you will need to install a drainage system to correct this issue.
Till and rake the soil to prepare it for the sod. You may also need to grade the soil so that water won't drain toward fixed points, such as your house. Do this by creating gentle slopes leading away from those points.
Lay the sod so that each side is right up against the other pieces. Do not overlap or allow for any spaces. When necessary, cut pieces of sod to fit the empty spots.
Stake the sod down when installing over a steep slope to keep it from sliding when watered.
Push the sod into the ground, either with your hands or feet or by using a roller. Rollers are preferable, as they press the sod more deeply into the ground.
Water the sod immediately after placing it. Supply the grass with approximately 1 inch of water. Measure this by setting out coffee cans and test the amount of liquid with a ruler.