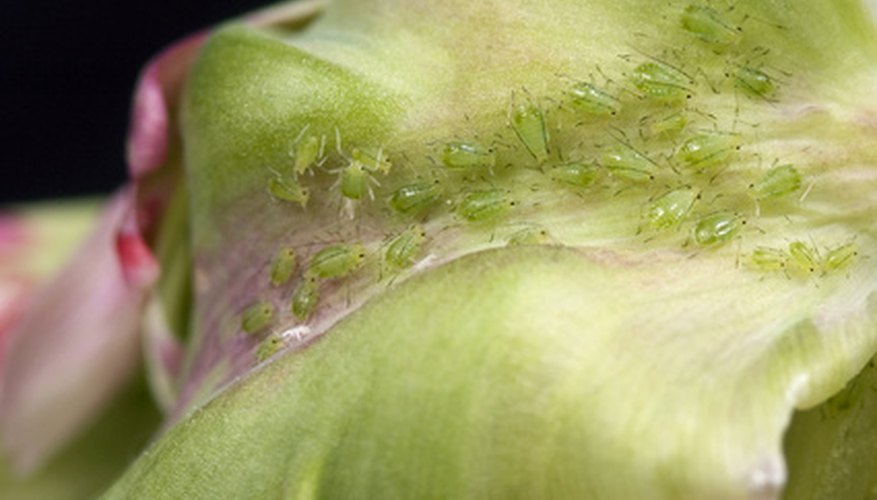 Many fruit trees, such as apple trees, require frequent application of pesticides, fungicides and horticulture oils and soaps from spring until harvest. One of the first treatments that many agricultural colleges recommend for fruit trees is a spray of dormant oil in spring before the first buds appear on a fruit tree. An application of dormant oil in early spring will help control pests such as aphids, scale and mites. Dormant oils spread over the bark of trees and coat eggs and larvae of dormant insects to kill them.
Pull on protective clothing while handling horticulture oil such as dormant oil. Protective clothing may include long-sleeve shirts and pants as well as gloves and breathing protection.
Mix mineral oil, soap and water in a stock pot on boil, stirring often. Allow the mixture to cool. Mix the oil mixture with water at a ratio of 1 part oil to 20 parts water. Pour the solution into the holding tank of a tank sprayer.
Pressurize the tank sprayer by grasping the spray handle and working the sprayer up and down until pressure is built up in the tank.
Hold the tank in one hand and the application wand in the other. Activate the wand to release a fine mist of oil from the end.
Wave the wand over your fruit tree using even, straight strokes to distribute the mist over the tree. Drench the branches thoroughly with the spray.
Shower after applying dormant oil to eliminate all oil residue from your skin.