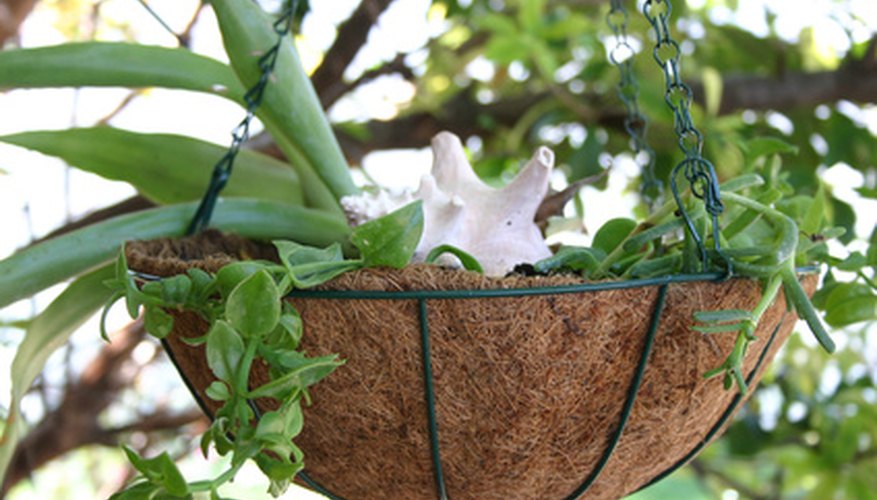 Hanging baskets are often used to decorate the inside of a home, porch area, deck or office. The best time to begin growth for a hanging basket plant is early spring. The plants add a variety of color and dimension to bare walls. Hanging baskets are also convenient for those who do not have available gardening space in their yard.
Indoor Ivy
When grown inside, indoor ivy can be grown at any size by pruning it as needed. An ivy with smaller leaves is easier to maintain, while larger leafed ivy grows quicker and requires more care. Indoor ivy such as Algerian ivy (Hedera canariensis) and Persian Ivy (Hedera colchica) are commonly grown in hanging baskets. If kept inside, pests do not usually cause problems with the growth of an ivy. The most common problem of caring for ivy is either over or under watering it. Be sure the ivy has drainage in the bottom of the pot to prevent it from developing root rot. Do not place ivy in direct sunlight. It grows well in low to medium light exposure. Ivy can also be placed in artificial light or in windows that are in the north, east or west direction.
American Flame Flower
The American flame flower (Episcia cupreata), or carpet plant, has leaves that are green and bronze colored. Its leaves are cascading, which makes it ideal to plant in a hanging basket. Its flower blooms are white, yellow, red or blue. Pinch the flowers back after they have finished blooming to encourage more growth . A carpet plant's soil must be kept damp, but do not over water it. Place the plant in a medium-lit area.
Red Ivy
The red ivy (Hemigraphis alternata), or waffle plant, has leaves that are oval-shaped and toothed. The top of the leaves are a silver color while the underneath is purple. It is a foliage plant which likes to spread on the bottom of the basket. Its white flowers bloom during the spring and summer. The plant thrives under fluorescent light and high humidity. The soil of the red ivy must be kept moderately damp.