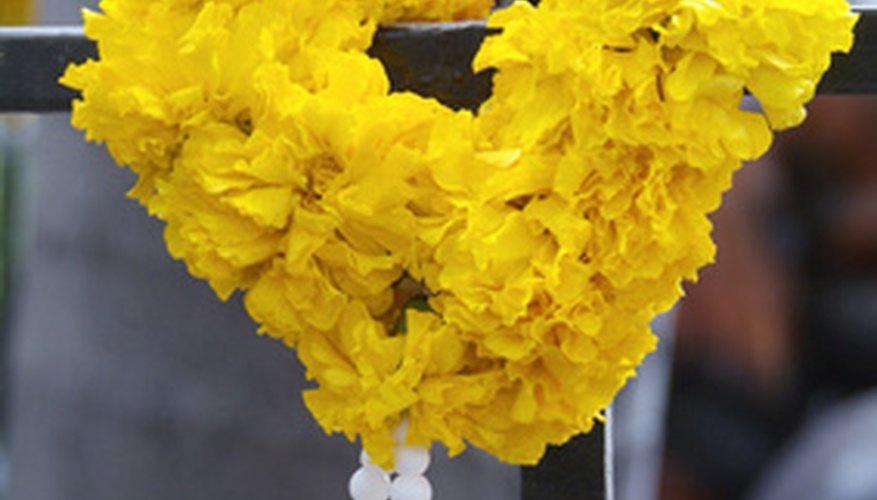 Instead of the usual bouquet, turn those garden fresh flowers into a garland. Fresh flower garlands can have many uses when made in varying lengths; hang them over the doorway of a home, string them around a patio to brighten up an outdoor party, make them into a lei for a Hawaiian-themed party, or make a garland for a flower girl to wear at a wedding. No matter what the size, making a fresh flower garland can be as simple as picking flowers from the garden, threading them together in whatever length you choose, and delighting in a colorful and often fragrant creation.
Select carnations or daisies to use in the flower garland. Cut the flowers early in the morning, leaving about 6 inches of stem. Place in a vase of water for at least one hour prior to making the garland so the flowers last longer.
Thread a large sewing needle or darning needle with heavy-duty sewing thread or fishing line. Decide on the size of the garland and cut a piece of thread or fishing line twice that measurement, plus an extra 12 inches. Thread your needle, pulling the thread through until both ends meet. Tie the loose ends into a knot.
Remove the flowers from the vase of water and cut the stems off directly below the base of the flowers. The numbers of flowers you will use depends on the size of the garland and the size of the flowers used. For a head garland, approximately 3 to 4 dozen flower heads are needed.
Insert the needle into the center bottom of a flower, bringing the needle up through the center of the flower. Pull the thread clear through, leaving about a 6-inch tail. String the rest of the flowers onto the thread until the thread is covered, leaving a 6-inch tail at each end. Cut the thread off the needle and tie into a knot.
Hang the finished garland over a doorway, attaching it to the doorway with push pins. If making a head garland, form the garland into a circle to fit the person's head and tie the loose ends of the thread into a knot. Tie ribbon streamers to cover the knot and let hang down the back of the head. If making a lei, tie the loose ends of the garland into a knot and wear around the neck.