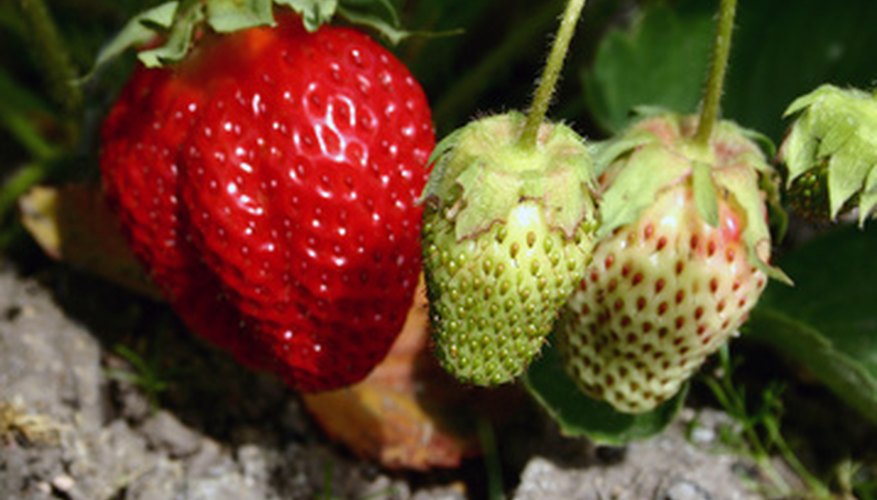 Strawberry plants fall into three categories: Day Neutral, June Bearing and Everbearing. The category describes the production habit of the plant. Most varieties of strawberry plants fall into the June Bearing category and are associated with strawberry season, the time of year fresh strawberries are typically available at markets.
June Bearing
Dominant in the strawberry world, the June Bearing strawberry plant produces an abundance of fruit within a brief time in the early summer. Planted in late autumn or early winter, the plants then overwinter and begin their growth and production cycles the following spring. Strawberries are harvested from late May through the end of June.
June Bearing varieties include Jewel, Allstar, Annapolis and Earliglow. Jewel and Allstar bear their fruit later in the growing season, after Annapolis, a midseason producer, and Earliglow, the earliest of bloomers.
Other June Bearing varieties include Seneca, which grows well in the Northeast regions; Winona, a cold-hardy variety; and L'Amour, a variety cultivated in 2004.
Day Neutral
Day Neutral varieties of strawberry have a longer growing season than June Bearing plants. The plants respond to the long, warm days, unlike June Bearing plants which die back when the temperatures rise. Day Neutral plants may produce two to three harvests throughout a growing season. However, high temperatures such as those in the Southwest during July and August may cause production to cease.
Seascape is a Day Neutral. This strawberry plant is a California cultivar that has been adapted for growth in plasticulture, an agricultural system employing plastic components such as plastic mulch, row covers and insulated beds.
Day Neutral varieties also include Tribute and Tristar, both common to the Northeast. Tribute produces larger strawberries, but Tristar strawberries are regarded as sweeter tasting.
Everbearing
Everbearing strawberry plants produce fruit up until the first hard frost. Because they begin fruit production early in the season, they may produce for four to six months. They are similar to Day Neutrals in their longer growing season, but Everbearing varieties may tolerate slightly higher temperatures and are more disease-resistant than Day Neutrals.
Everbearing varieties include Ozark Beauty, Fort Laramie and Quinault. These plants produce smaller, less sweet fruit than those of the June Bearing or Day Neutral varieties, but may be more adaptable in a backyard garden due to their compact growing habits. Pinching off the early blossoms on Everbearing strawberry plants may encourage more vigorous growth as the season progresses.