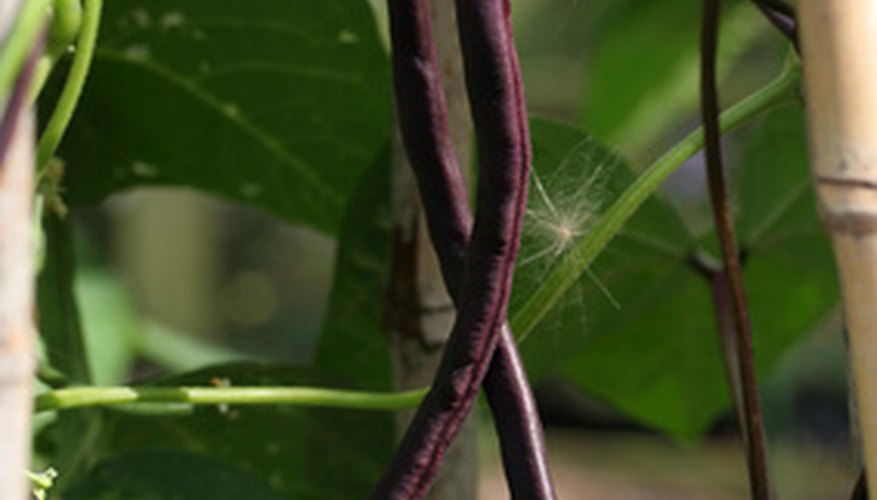 Beans are high in nutrition, come in many varieties and are easy to grow in backyard gardens in most areas of the U.S. Beans fall into two types: bush or pole. Bush beans require more space than pole beans, which grow vertically when supported. According to the Yardner, a 25-foot row of bush beans will produce between 20 and 30 lbs. of beans, and the same row planted with pole beans will produce between 50 and 70 lbs. of beans.
Erect the pole bean supports at planting time or shortly after, suggests the University of Georgia. This prevents the climbing tip of the vine from touching the soil, which could rot the tip.
Space the rows of pole beans 2 feet apart. Plant the seeds every 3 to 6 inches along the row.
Use a post every 15 to 20 feet along the row of pole beans. Bury the 7- to 8-foot stakes (posts) at least 1 foot deep and leave 5 to 6 feet of the stake above ground.
Nail heavy gauge wire to the top of the post at one end of the row. Stretch it tightly to the next post and attach it.
Attach a lighter gauge wire (or twine) to a nail placed about 5 to 6 inches above ground level on the same support post. Stretch it to the end of the row and attach it to the stake.
Tie twine to the top (or bottom) wire at one end of the row. Slowly move down the row crisscrossing the twine from top to bottom wire, creating supports for the pole beans to climb.
Things You Will Need
Stakes or posts--7- to 8-foot-long 2-by-2s

Hammer

Nails

10- to 12-gauge wire

Twine