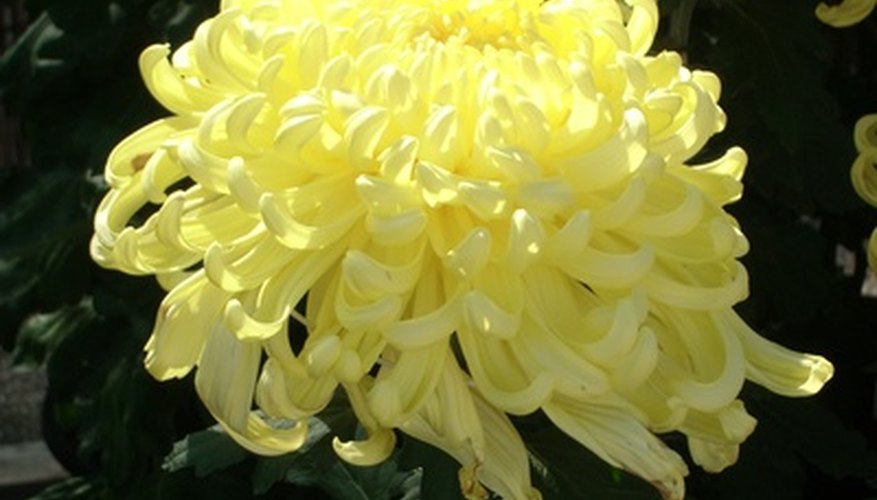 The nation of Japan consists of a chain of islands encompassing both subtropical and subarctic climates. Its temperature extremes and varied mountain and coastal geography have given rise to more than 7,000 native plant species, according to Botanical Gardens Conservation International. Forty percent of those species are native only to Japan. Among them are some flowering plants that have become favored ornamentals in gardens around the world.
Pincushion Flower
Pincushion flower (Scabiosa japonica), hardy to minus 30 degrees F, is a long-blooming Japanese perennial. Standing 3 to 6 inches high and up to 1 foot wide, pincushion flower has deep green foliage. From May to October, according to the Missouri Botanical Garden, the plants have abundant, lilac blue flowers named for their pincushion-like centers, densely packed with stamens. A ring of blue petals encircles the stamens. The flowers work well in floral arrangements.
This plant is happiest where summers are cool. Plant it in borders with full sun and averagely moist, well-drained soil. Adequate drainage is critical for its survival. Provide dry mulch during wet winters. Removing dead flowers will extend bloom.
Japanese Anemone
Japanese anemone (Anemone hupehensis var. japonica) is a late-summer blooming buttercup family perennial standing up to 3 feet high and 30 inches wide. The 'Pamina' cultivar, according to the Missouri Botanical Garden, is hardy to minus 20 degrees F. It has a basal mound of lobed, deep green leaves. In August and September, gracefully branching stems rising above the foliage bear yellow-centered, semi-double, 3-inch pink flowers. 'Pamina' is largely pest and disease resistant. Use it, recommends the Missouri Botanical Garden, in perennial borders or woodland gardens. It grows in partial shade--for best results--to full sun and benefits from wind protection. Give it average, well-drained humus-rich soil that remains consistently moist.
Japanese Peony
Japanese peony (Paeonia japonica), a perennial, has become a popular garden ornamental across the world. Hardy to minus 20 degrees F, this 18-inch tall and wide plant emerges each spring with attractive, branching grayish-green foliage. Buds form at the end of each branch, producing showy, yellow-centered cup-like white blooms in May. The fragrant flower, up to 3 inches wide, lasts for a week or more. Seedpods that follow burst in late summer to reveal red-stemmed blue seeds.
Use Japanese peony in a shade or woodland garden or in a shady border, suggests the Missouri Botanical Garden. Its foliage adds interest even when the plant isn't in bloom. Give it rich--amended if necessary--averagely moist soil in partial shade. Foliage will die back with the first frost. Plants require little maintenance and will bloom undisturbed for years.
Resources