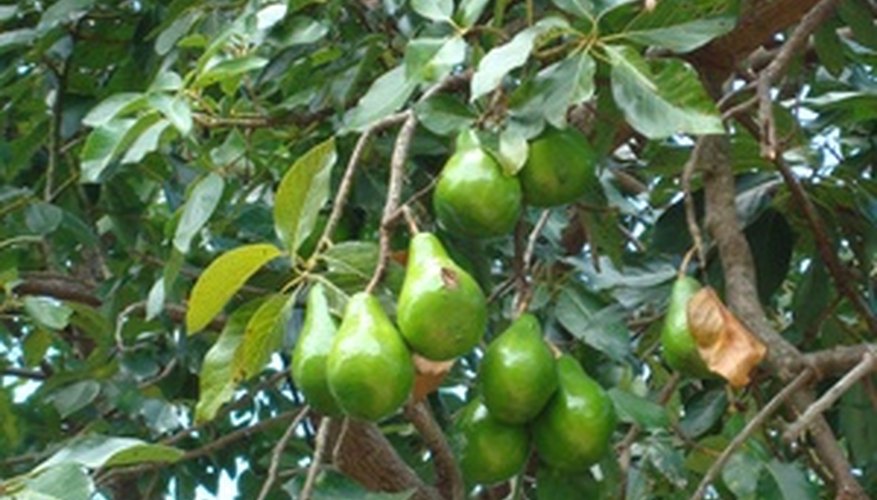 Avocado (Persea) trees are available in three distinct types and are named after where they originated. The well-known Haas avocado is a hybrid that accounts for more than 70 percent of the California crop, according to Purdue University's Horticulture Department. Avocados are tropical trees that may be planted in U.S. Department of Agriculture plant hardiness zones 9 to 11, and the majority of U.S. avocados are grown in San Diego county. Avocados require full sun and frequent but light water.
Mexican
The hardiest variety, Mexican avocado trees can withstand temperatures as low as 18 degrees Fahrenheit. They produce fruit in the summer. Mexican avocados have thin, green, purple or black skin and creamy yellow-green flesh. These avocados are pear-shaped and may weigh up to 12 ounces. Mexican avocado trees are grown commercially in Texas, North or Central Florida and California, but may be planted in a home garden in any climate that does not have regular freezes. A unique feature of this avocado is that the crushed leaves have a licorice scent.
The Mexicola cultivar is the hardiest of this type of avocado, while the Fuerte is a hybrid that has been successful in home gardens. The Haas is a Mexican-Guatemalan hybrid.
Guatemalan
The Guatemalan avocado can withstand temperatures to 21 degrees, but does not grow well in Florida, due to the humidity. Some hybrids will succeed in Florida, but in general, these avocado trees should be planted in California, where they are grown commercially, and in more temperate climates. These trees produce pear-shaped fruit with gritty or ridged skin that may be 18 ounces or more. The Pinkerton cultivar, which was developed in California, has a good shelf life, and the Taylor, which may be grown in Florida, is known for its good flavor.
West Indian
West Indian avocado trees are not readily available and are most often used as rootstock for other varieties, according to the Sunset National Garden Book. These trees have a high salt tolerance, but are particularly cold sensitive and will be damaged if temperatures reach 25 degrees. These trees may be found in Florida, particularly in the central and southern parts of the state, and southern Texas, where freezes are not a concern. The Russell cultivar bears good-tasting fruit and is suitable for a home garden, while the Waldin variety is a key commercial crop in southern Florida.