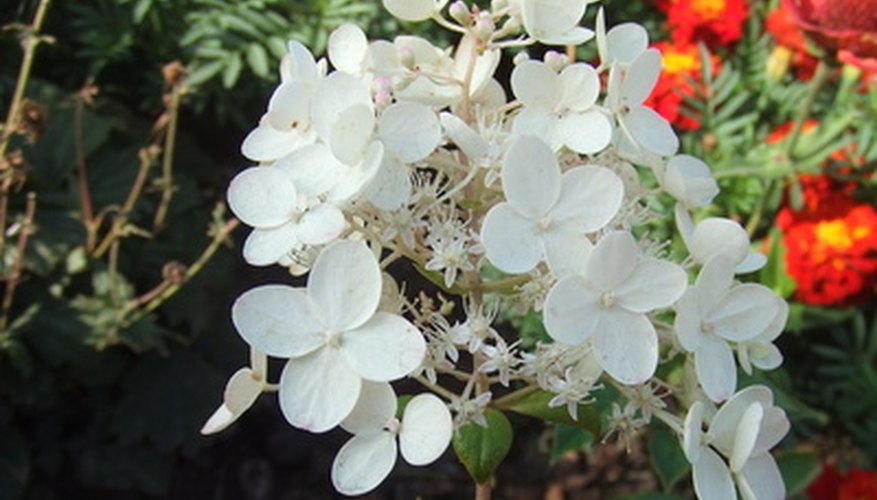 Hydrangeas are deciduous small to medium flowering shrubs that have long been favored by gardeners for their large showy blossoms. They are considered easy to grow and make for good container-grown plants. Hydrangeas produce large, pH-sensitive ball-shaped blossoms that appear on long, sturdy stems, which make them excellent for bouquets. Planting hydrangeas in pots is easily accomplished but make sure you are planting a variety that will not grow too large for the pot.
Choose suitably sized planting pots for the hydrangeas. The ideal sized pot should be large enough to accommodate the hydrangea but not so large you cannot move the pot indoors if necessary.
Place the planting pots in a location that will offer them protection from the hot mid-day sun in hotter Southern growing regions. In cooler Northern climates, place the pots where they will receive as much filtered light as possible.
Fill each pot with a good quality potting mix until each is full to within 2 inches from the top. A good potting mix for hydrangeas is one that has a pH of between 6.5 and 6.8. Mix equal portions of peat moss, compost and vermiculite or perlite to make your own potting mix.
Remove a hydrangea from its growing container. Starting at a drain hole, cut along the sides of the pot, all the way up to the top of the rim. Do this around the entire pot until the hydrangea can be removed from the planting pot.
Rough up the root ball of the hydrangea if its roots appear bound or matted. You can spray off about 1 inch of soil from the root ball if you experience difficulty loosening the roots.
Dig a hole out from the center of the soil in each of the planting pots. The hole should be large enough to accommodate the depth of the hydrangea so it will sit with the top of its root system level with the remainder of the soil in the pot.
Scoop some of the soil you removed from the pot in and around the hydrangea. Hold the hydrangea level in its new planting pot while you fill the pot full of soil. Pack the soil down all the way around in the pot.
Water each of the hydrangeas with enough water so the soil in each pot becomes visibly well moistened. One week after planting, begin fertilizing the hydrangeas using a time-release fertilizer such as 20-20-20. Plan on fertilizing the container-grown hydrangeas during the summer growing season every other time you water.
Things You Will Need
Planting pots

Potting mix

Multi-purpose snips

Trowel

Fertilizer
Tips
Plant hydrangeas in pots from early summer to late fall.

In late winter, snip off any dead or broken branches from each of the hydrangeas.