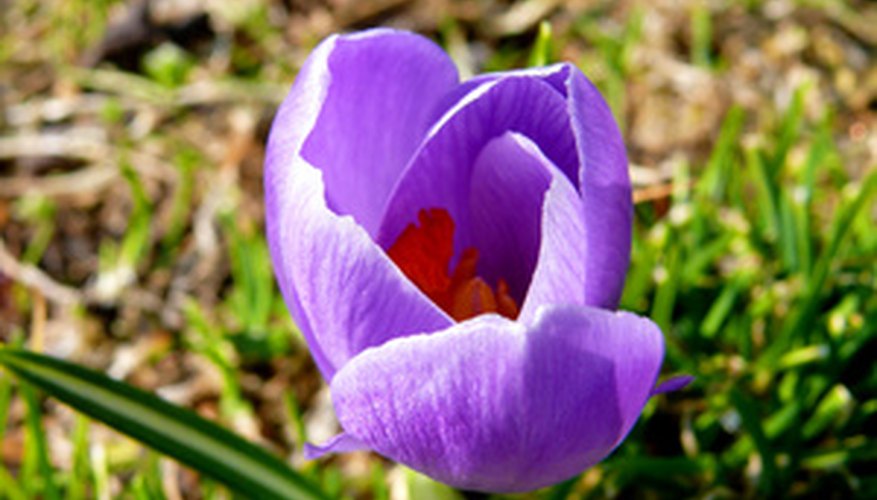 Nature has evolved a wide variety of plants that grow under every imaginable condition, including those that emerge from the ground as soon as it begins to thaw. These plants that emerge in early spring are hardy and well able to withstand freezing temperatures or late winter snowstorms.
Scilla
Most often growing in the lawn, siberian squill or scilla (Scilla siberica) grow tiny blue flowers and white flowers on the variety S. tubergeniana. They have skinny straplike leaves on small plants about 8 inches high. Technically a bulb, they also reseed themselves easily after the flowers fade. Scilla appear as soon as the top few inches of ground is thawed in spring and can often be seen blooming among a late winter snowfall. Leave the foliage to dry up and fade on its own, similar to the treatment given other spring bulbs. The foliage will be completely dried up and no trace of the plants will remain by the time the lawn is ready to be cut for the first time in mid-spring.
Crocus
Traditionally considered the first of the spring-blooming bulbs, crocus (Crocus spp.) are short, 4- to 6-inch-high plants with purple, blue, lavender, white, yellow or bicolored flowers and the straplike leaves common to most spring bulbs. Crocus are very hardy and can often be seen blooming while snow is still on the ground. They are best planted near a building's entrance to best enjoy their low-growing blossoms while winter still has its grip on the land.
Chives
One of the first plants to emerge in the vegetable garden is chives (Allium schoenoprasum). Its grasslike leaves begin to emerge as soon as the top few inches of soil thaws in very early spring. They are hardy enough to withstand spring blizzards and ice storms, never missing a beat and blooming right on schedule in mid-spring regardless of the severity of early spring snowstorms or freezing weather. You may begin cutting chives for cooking as soon as they emerge from the ground in early spring.