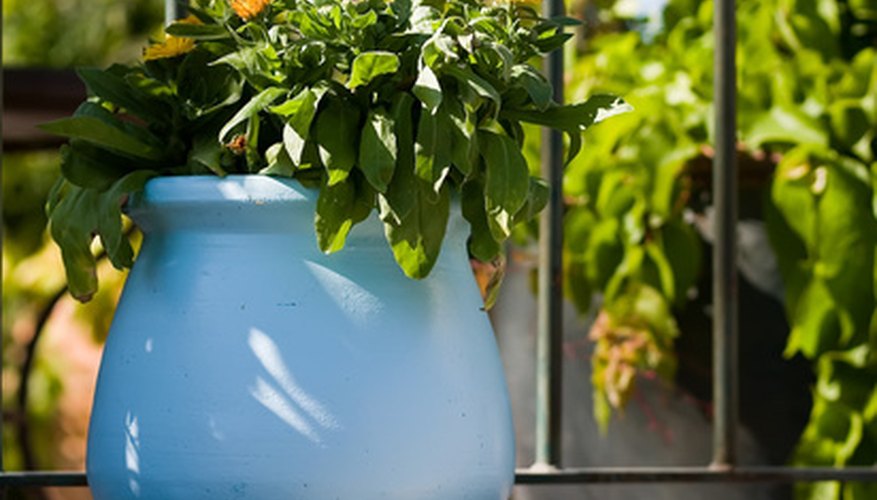 Container gardens decorate the indoor and outdoor landscape. Each container must meet certain basic requirements to successfully house a plant. The size must accommodate the roots of a mature plant, and the pot must have drainage holes in the bottom. Gardeners can use any container for plants as long as it never contained toxic materials. Types of plant containers include a huge variety of store-bought, manufactured containers as well as recycled containers from around the home.
Clay Containers
Clay pots come in a wide range of sizes to suit any size plant. Clay is a porous material compressed into the shape of a planter. Clay planters can be any shape and often feature a matte finish to the pot. Over time, clay takes on an aged patina and reflects chalkiness caused by exposure to minerals in the water. Some containers feature plain terra cotta for a natural look. Other containers are fired and painted with high-gloss sealant to increase the lifespan of the planter. Clay containers will weather and crumble if exposed to many years of temperature changes.
Plastic Pots
The sturdiest plant containers are made of plastic from original or recycled materials. Gardeners often prefer plastic pots for easy matching with outdoor décor. These pots are lightweight and hold water in the container. Plastic pots don't breathe and provide little protection for roots during winter due to the thin sides of the container. Darker color pots will attract sun and should be placed in shadier spots to limit potential damage from heat.
Wood Planters
Wood planters can be built by homeowners or purchased at a garden center. Wood planters exist in many shapes and sizes as well as many types of wood. These planters must be treated with preservatives to protect the integrity of the pot. Drainage holes are a must, as is a liner to protect the inside of the wood from rot. Naturally rot-resistant cedar and redwood planters can last for many years. Wooden wine barrels can be cut in half to form a planter. Make sure each planter drains properly before planting. When lining a wooden planter with plastic, always make sure to punch holes every 5 to 6 inches for proper drainage.
Hanging Containers
Hanging baskets come in both plastic and wire varieties. Plastic pots feature preformed potting bowls, often with attached drainage trees. Plastic clip-on plant hangers allow the gardener to adjust the hanging height of the container garden. Wire baskets require the use of preformed coconut liners to house plants. These liners form a bowl that holds soil and releases excess water. Some gardeners prefer to use sphagnum peat moss to create a natural looking liner for a hanging planter. Wetting the moss allows the gardener to mold it into the planter shape to hold potting soil.