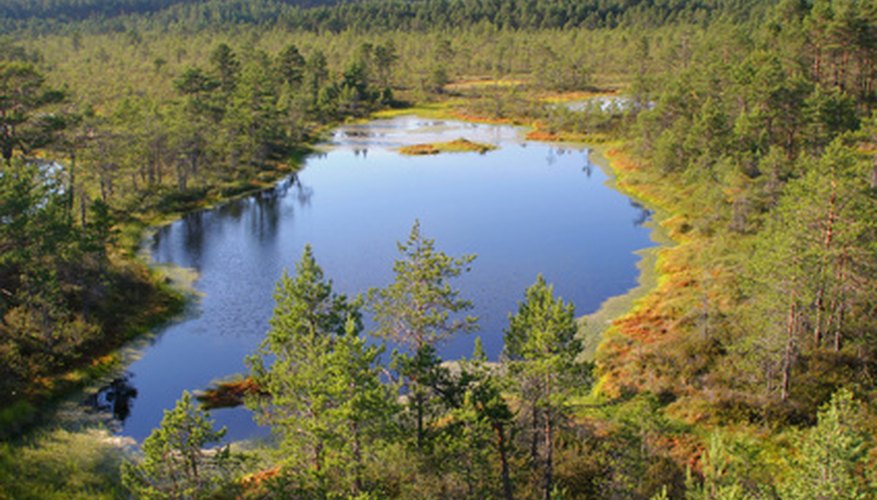 Bogs are wetlands that have low amounts of nutrients. Plants in bog gardens are adaptable to tough conditions and need a soil that is not allowed to get dry. The wetter, the better, even to the point of having a small amount of standing water. Plant in containers and put the containers in the water in areas where the plants will not survive the winter. Bring them in and put them back out again in the spring.
Papyrus
Papyrus (Cyperus papyrus) produces short leaves that grow wrapped around the bottom of the stems which grow up to 10 feet tall. Spikes numbering about 100 and measuring from 5 to 12 inches long grow in clusters at the top of the stems, with a single flower at the tip of each one. Papyrus grows in profusion in shallow water or wet, boggy, garden soils and in full sun or partial shade. The plant is hardy in USDA Zones 9 to 11.
Giant Elephant Ear
Giant elephant ear (Alocasia macrorrhiza) grows from 12 to 15 feet tall and 6 to 10 feet across. The plant features leaves from 3 to 6 feet long and 2 to 4 feet wide, growing on stems from 2 to 4 feet long. The stems grow directly out of a trunk that grows up to 6 feet tall. Plant giant elephant ear in full or partial shade and an organically rich, moist and well-drained soil. The plant can stand up to a shallow flooding situation and is hardy in USDA Zones 9 to 11.
Umbrella Plant
Umbrella plant (Cyperus involucratus) grows in wet and boggy situations and is hardy in USDA Zones 8 to 11. The plant grows from 2 to 6 feet tall with small leaves wrapped around the base of the plant. Petals from 6 to 15 inches long that resemble leaves grow at the tips of the stems surrounding small green flowers in the central disk. The flowers give way to small, dark-brown fruits. Plant umbrella plant in full sun to full shade.
Cardinal Flower
Cardinal flower (Lobelia cardinalis) grows from 2 to 4 feet tall and 1 to 2 feet wide. Red, white or rose-colored, tube-shaped flowers grow in long, loose clusters at the top of the stems and bloom from July through September. Dark-green, lance-shaped leaves grow up to 4 inches long. Plant cardinal flower in full sun or partial shade and a soil that is medium to wet. The plant is hardy in USDA Zones 3 to 9. The nectar is a favorite meal for butterflies and hummingbirds.