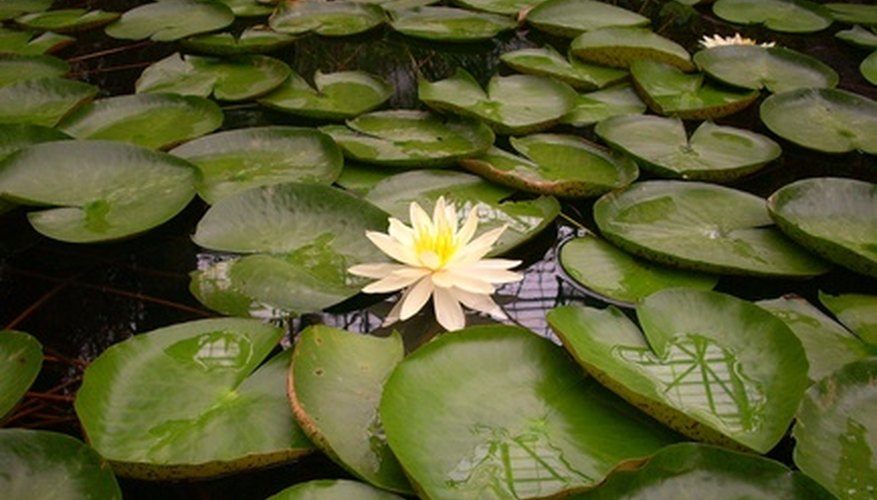 Water lilies are not related to lilies that grow on dry land. These aquatic plants may be classified in two distinct groups. Hardy water lilies will grow in water temperatures below 70 degrees F, and grow from a rhizome, while tropical lilies will become dormant in water below 70 degrees F. These flowering plants grow from tubers and must be lifted from the water garden and stored for the winter. The best time to repot both tropical and hardy lilies is in spring before returning the lilies to your pond.
Lift the bulb baskets from the water and turn the baskets on their side to dislodge the aquatic potting mix. Shake the mix free of water lily rhizomes or tubers.
Pull dead vegetation off of the rhizomes or tubers and snip away dead roots with garden shears.
Separate tubers or rhizomes that are beginning to crowd their containers by cutting them with a sharp knife at the point where tubers or rhizomes are already either thin or pulling apart along natural divisions.
Place aquatic soil in the net basket so that the basket is two-thirds of the way filled with aquatic soil.
Place the tuber or rhizome with the roots pointing down on top of the soil. Cover the tuber with pea gravel until only the growing tip emerges from the container.
Set the container in the garden pond's water so that the container is at the proper depth to grow water lilies from.